HDRScope 8K-SD Waveform/Vectorscope
Drastic HDRScope is the world's most powerful 8K through SD software signal monitoring tool and HDR image analyzer. It includes waveform (luma, YCbCr, RGB), vectorscope, histogram, chromaticity, and data/picture monitor for video. Audio histogram, phase, RMS, peak and loudness monitoring for up to 16 channels. Raw hex views of the video and OP-47/CEA-708/CEA-608 closed caption decoding, with support for CCIR-601, Rec.709 and BT.2020 color spaces and HDR10/ST2084/PQ and HLG (Hybrid Log Gamma) support. Designed to take advantage of AJA's 8K/SUHD Quad HD, 2SI, and 4K 60p capture modes in both Rec.709 or BT.2020, HDRScope provides the most cost effective SD/HD/4K/8K signal monitoring solution available.

HDR Waveform Vectorscope Audio/Video Monitor
HDRScope software provides a real time, professional quality signal analysis tool for on set, production, post production, and research and development environments. HDRScope is designed to monitor from true 8K resolution down to NTSC/PAL and everything in between. It supports SDR and HDR image analysis with support for 601, 709, 2020, HDR10, HLG and WCG color spaces. Multiple audio and video scopes can be selected in a variety of layouts depending on your monitoring needs. For SMPTE 2110/2022 monitoring, please see our Network Video Analyzer.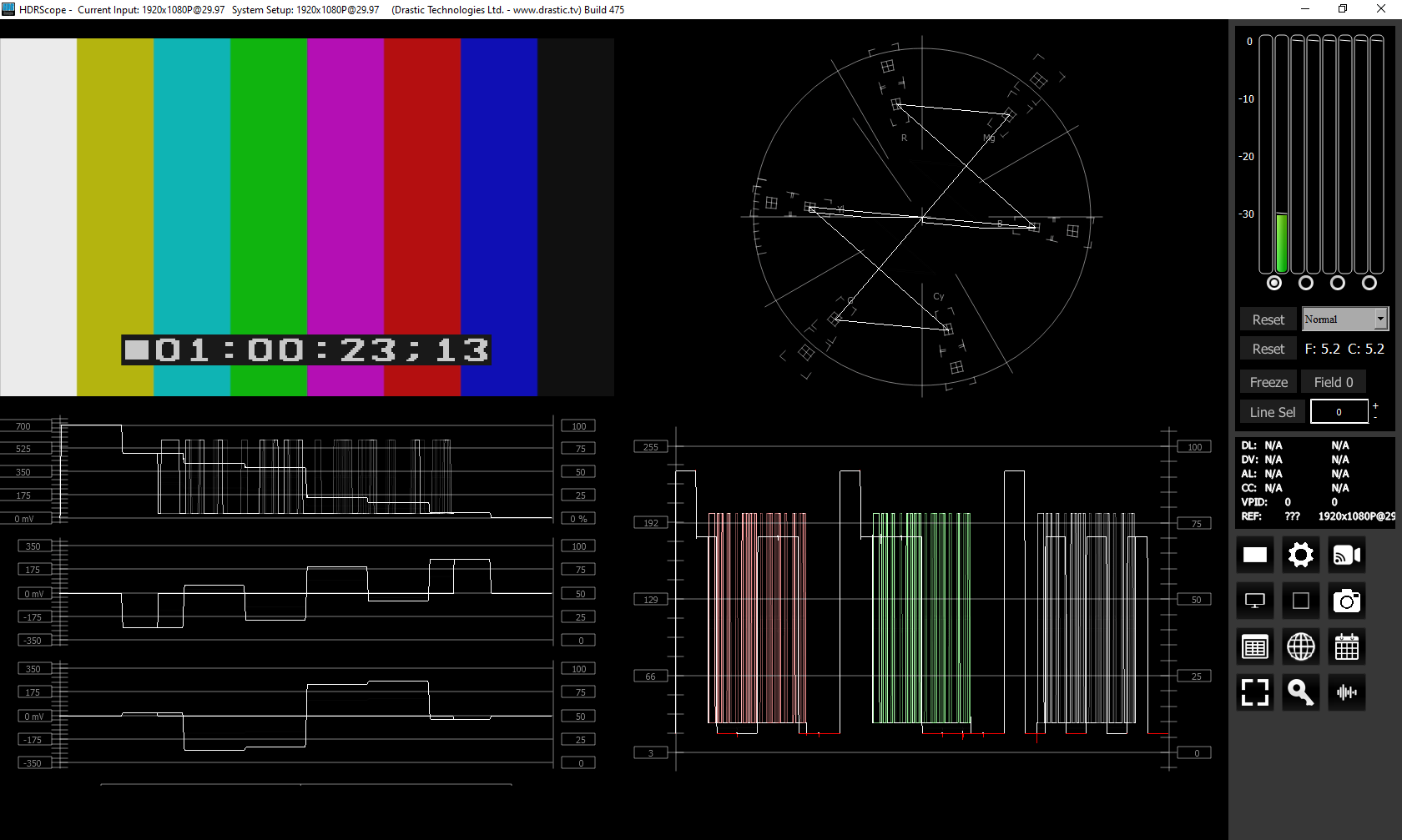 HDRScope can display up to six video, data, or audio scopes at one time with pixel accurate 16 bit precision in SDR or HDR. HDRScope is ideal for HDR mastering, DIT and broadcast monitoring, signal QC and remote monitoring. It is available as software for Windows macOS, and Linux, or as a 1U hardware device from our partner CineSys.
Video Scopes
Audio Scopes
Picture Modes
Advanced Features
Available Upgrades
Network Video Analyzer

All HDRScope features
Network packet timing and chart
10G/25G/100G NIC support
SMPTE 2110 and 2022

videoQC

File based scope set same as HDRScope
Single sided analysis
Full reference analysis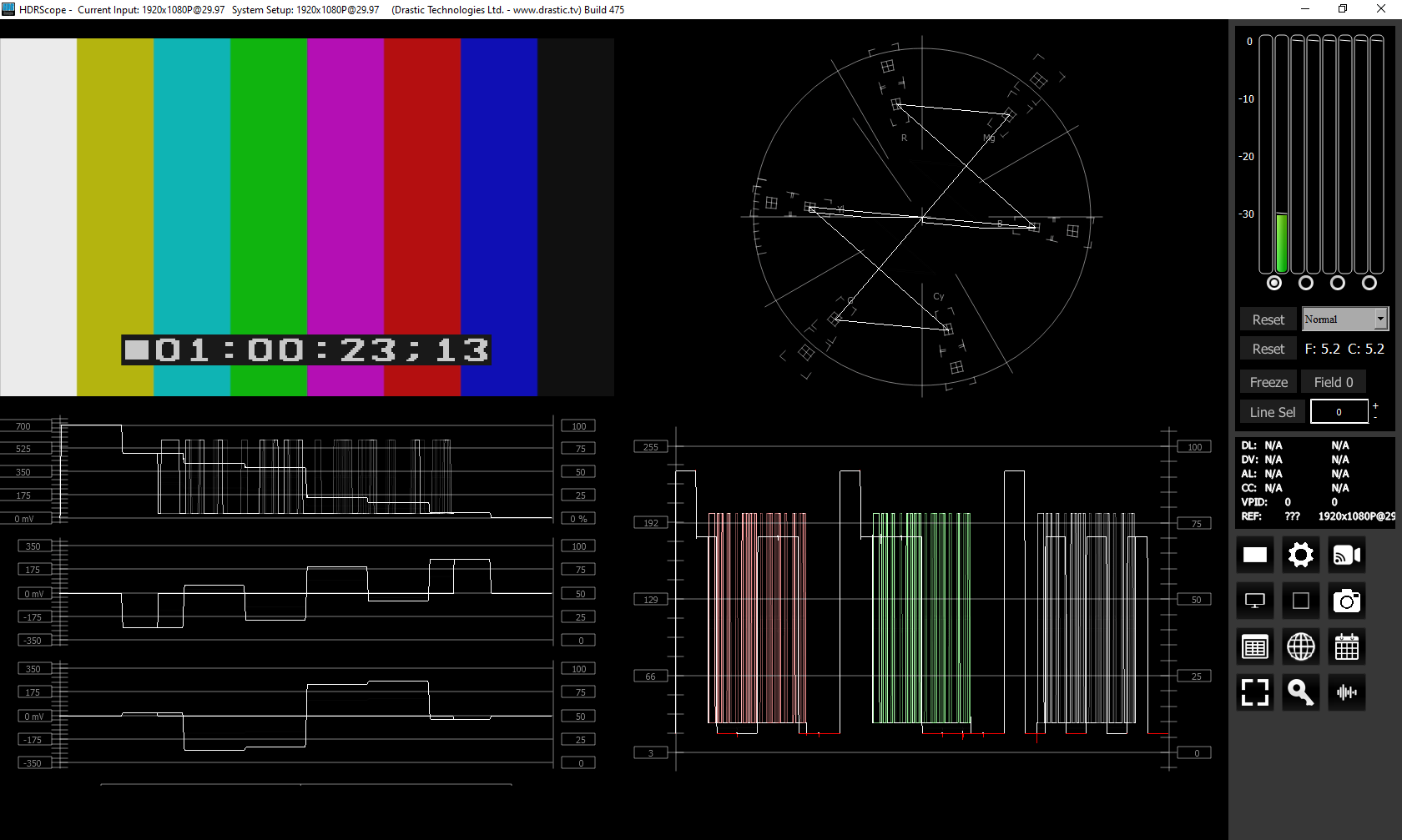 The Picture view shows the video signal, to confirm the source is correct and to display time code location. Action Safe, Title Safe, Graphic Safe, Picture Frame, and Active Region graticules are optionally available.
Closed Caption Detection and Display
- Decode closed captions from line 21 encoding (SD) and line 9 ANC encoding (HD). SD 608, HD 708 and OP-47 can all be decoded in real time and displayed as text over the picture. The actual data can also be viewed on line 9, or 21 for SD, in data mode. CC type detection is also displayed.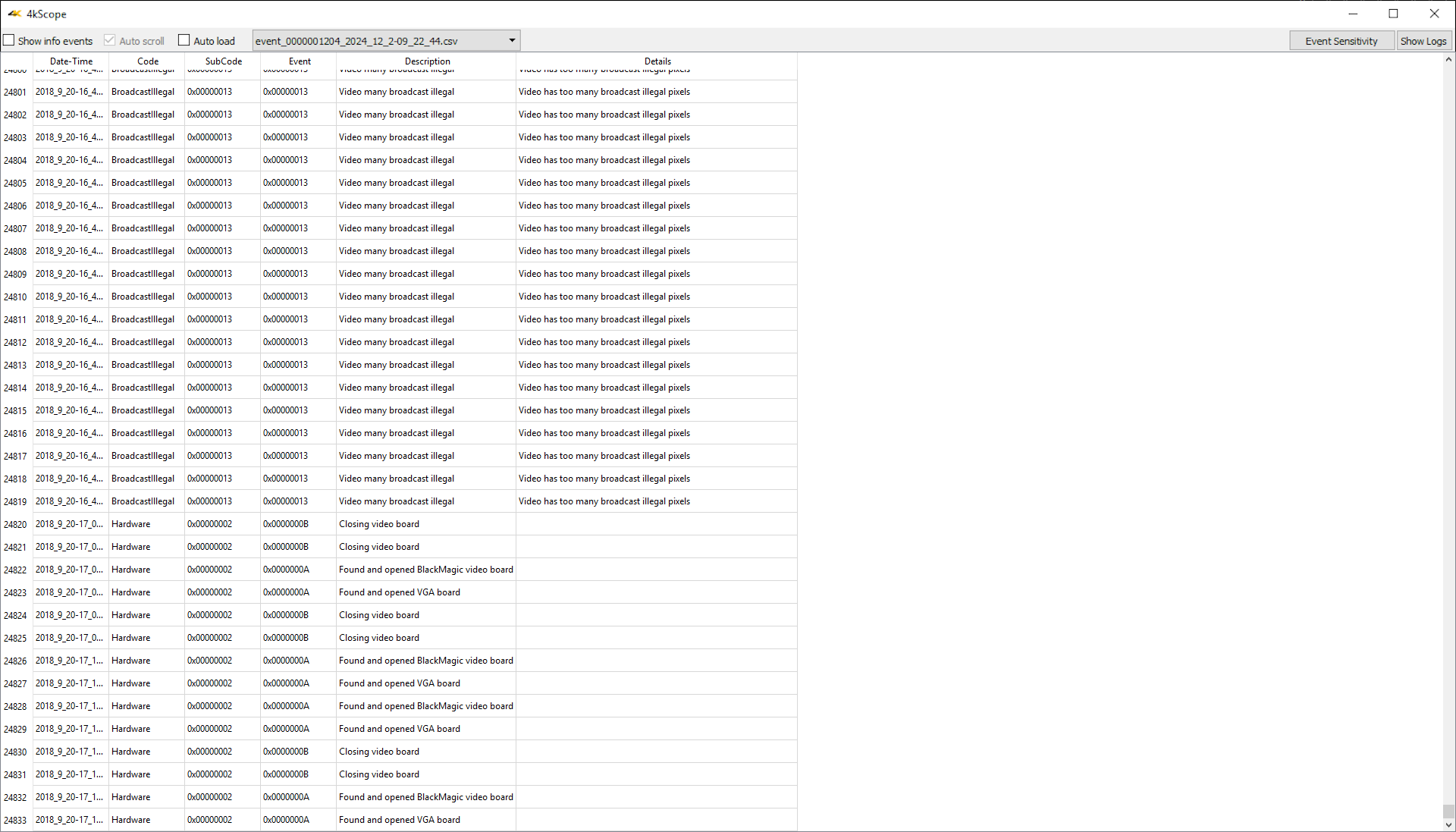 Error Log Window
- The error logging review window displays the video and audio errors from the log stored on disk. These include loudness overages, out of gamut, luma too high/low, chroma too high/low, broadcast illegal colors, repeating lines, saturation errors, signal loss and recovery, and other error detection.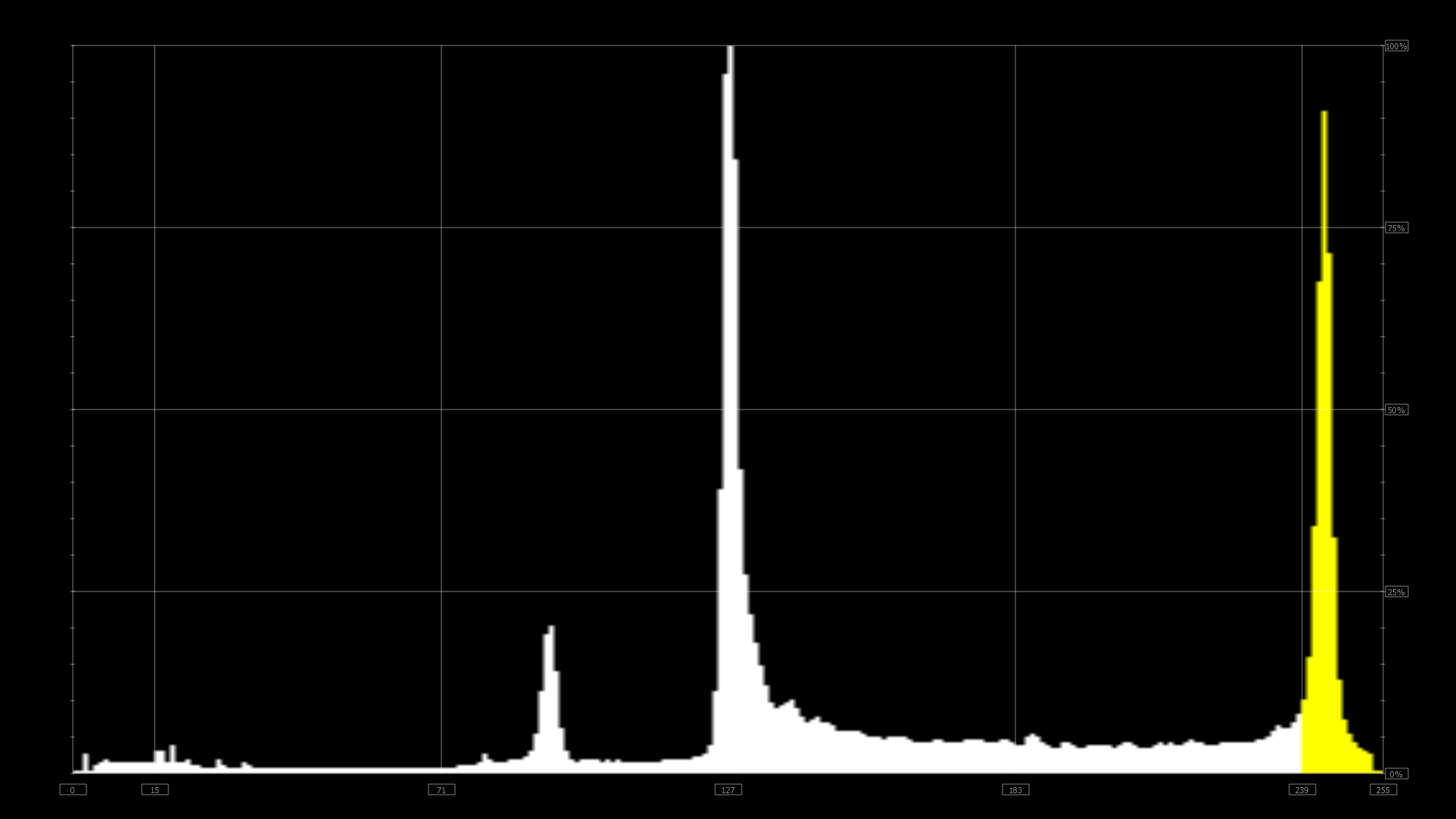 8 Bit Signal
- 8 bit signal processing is supported, including detection of 8 bit signals in a 10 bit path (note the missing lines/bins).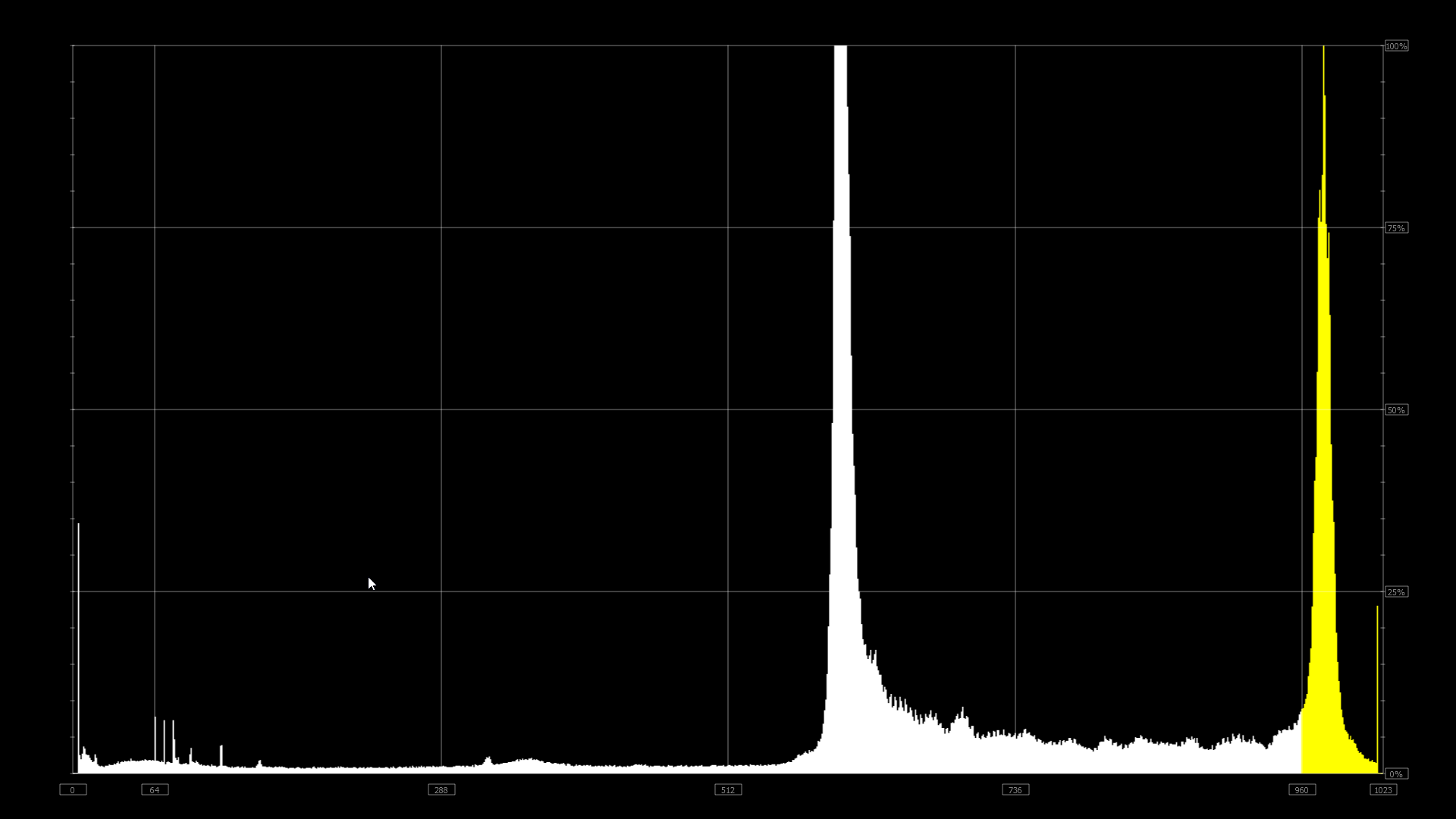 10/12 Bit Signal
- Smooth scopes on true 10 and 12 bit signals display every possible level in the signal, allowing finer analysis.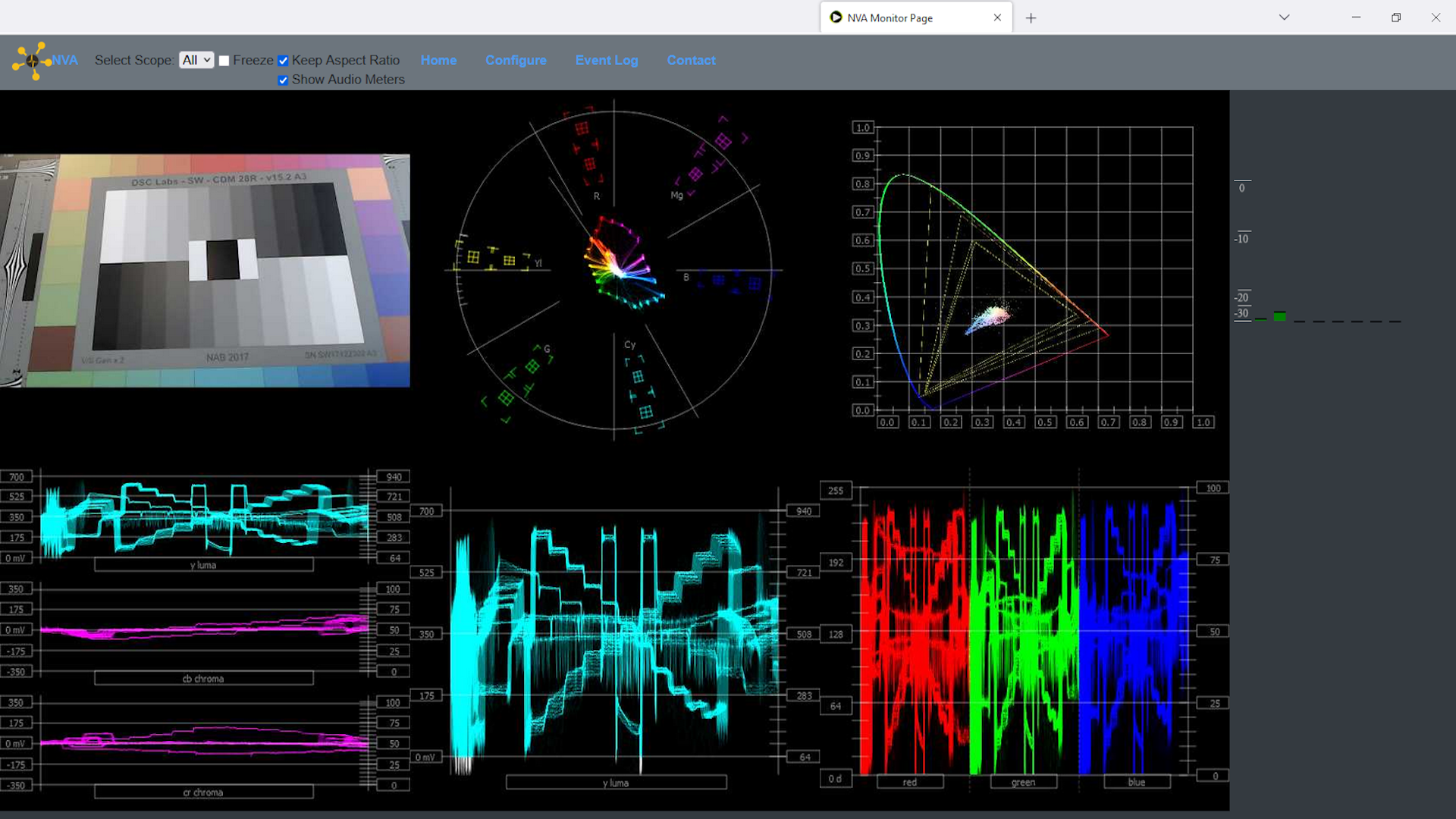 HTTP/Web Server
- Check the status of your facility from anywhere with our live HTTP/Web page interface. Real time updates in pure HTML5 without any extra plugins.
Remote Desktop Access
- You can also control and view using standard remote desktop tools to create a full featured monitor for your entire facility. This video tutorial gives an overview of setting up a remote system with an AJA U-TAP and KUMO series router.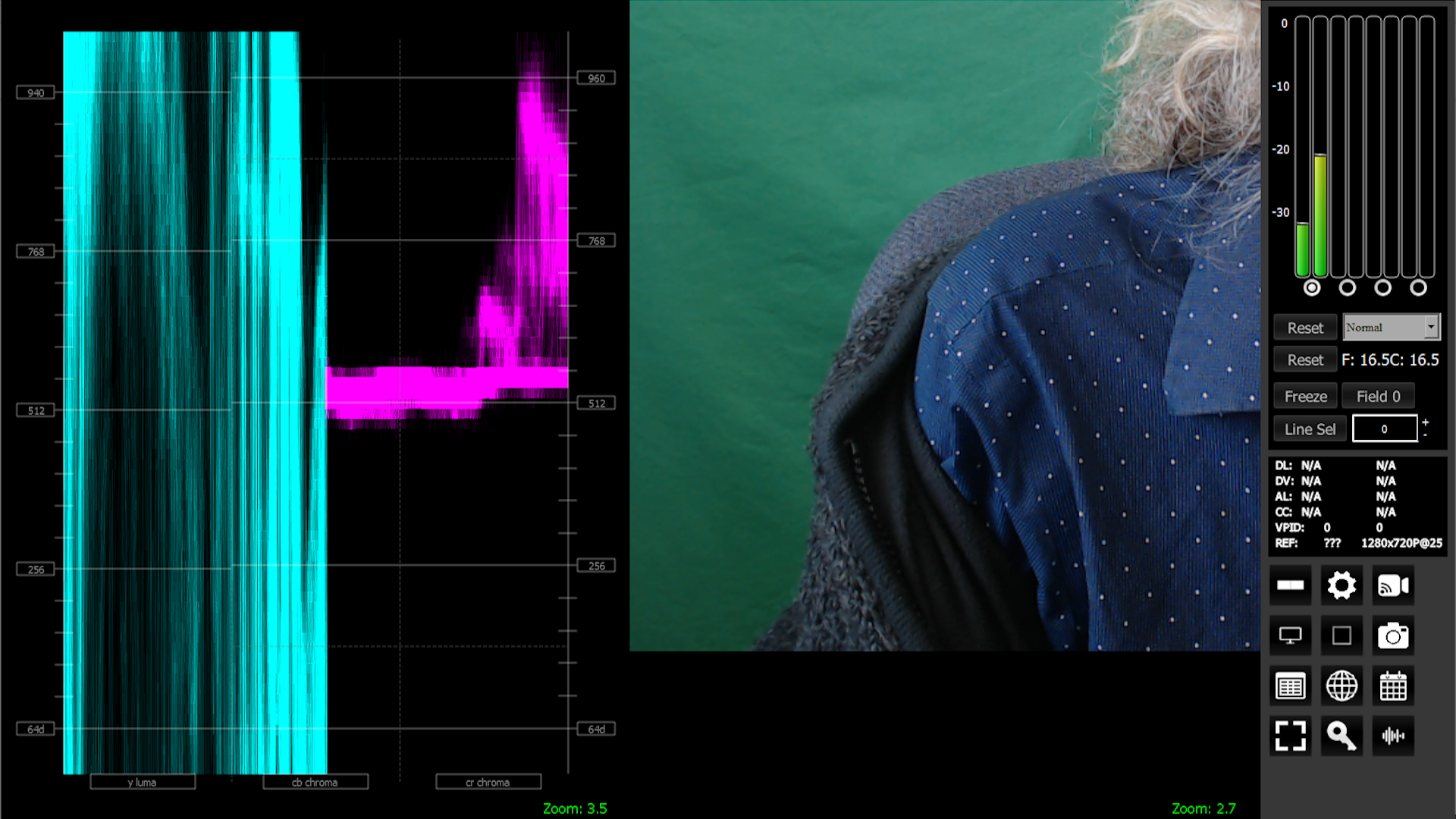 Zoom and Pan
- The waveform monitors and vectorscope zoom in for a closer look at low saturation signals, or the luma elements of the waveform. The live picture can also be zoomed in or out, and panned with the mouse. To zoom, roll the mouse wheel. To pan, click and drag. To reset to normal view, right click the mouse. Specific 1x, 2x and exact decimal zooms are also available in the config dialog.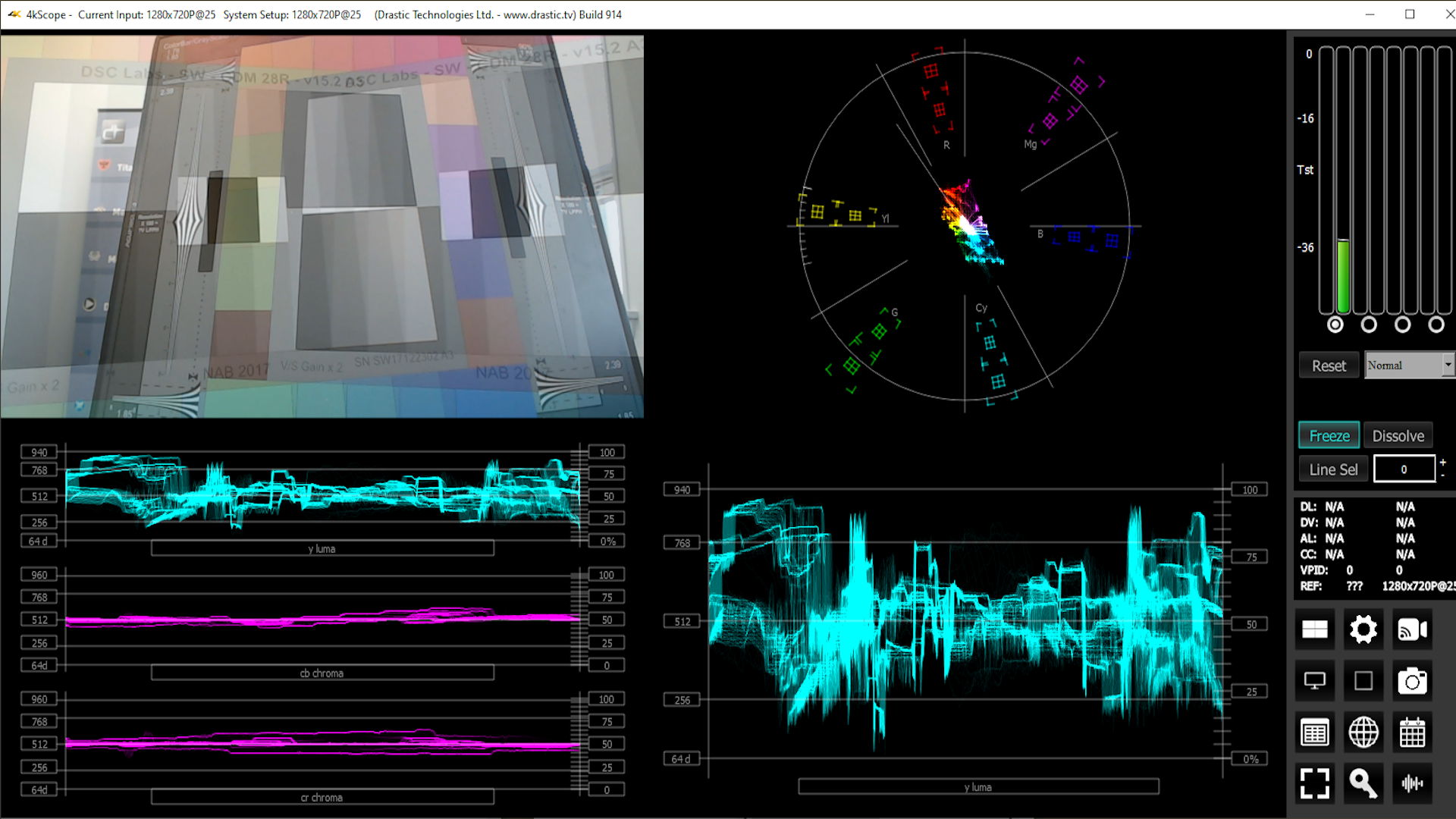 Signal Compare
- The signal compare feature can be used to freeze a complete frame of video (two fields in interlaced), every second line (field), or at a 50/50 dissolve to compare two signals or cameras. Once frozen, all the standard scopes are still available for setup and comparison. While a frame is frozen, the comparison mode and type of scope can be changed.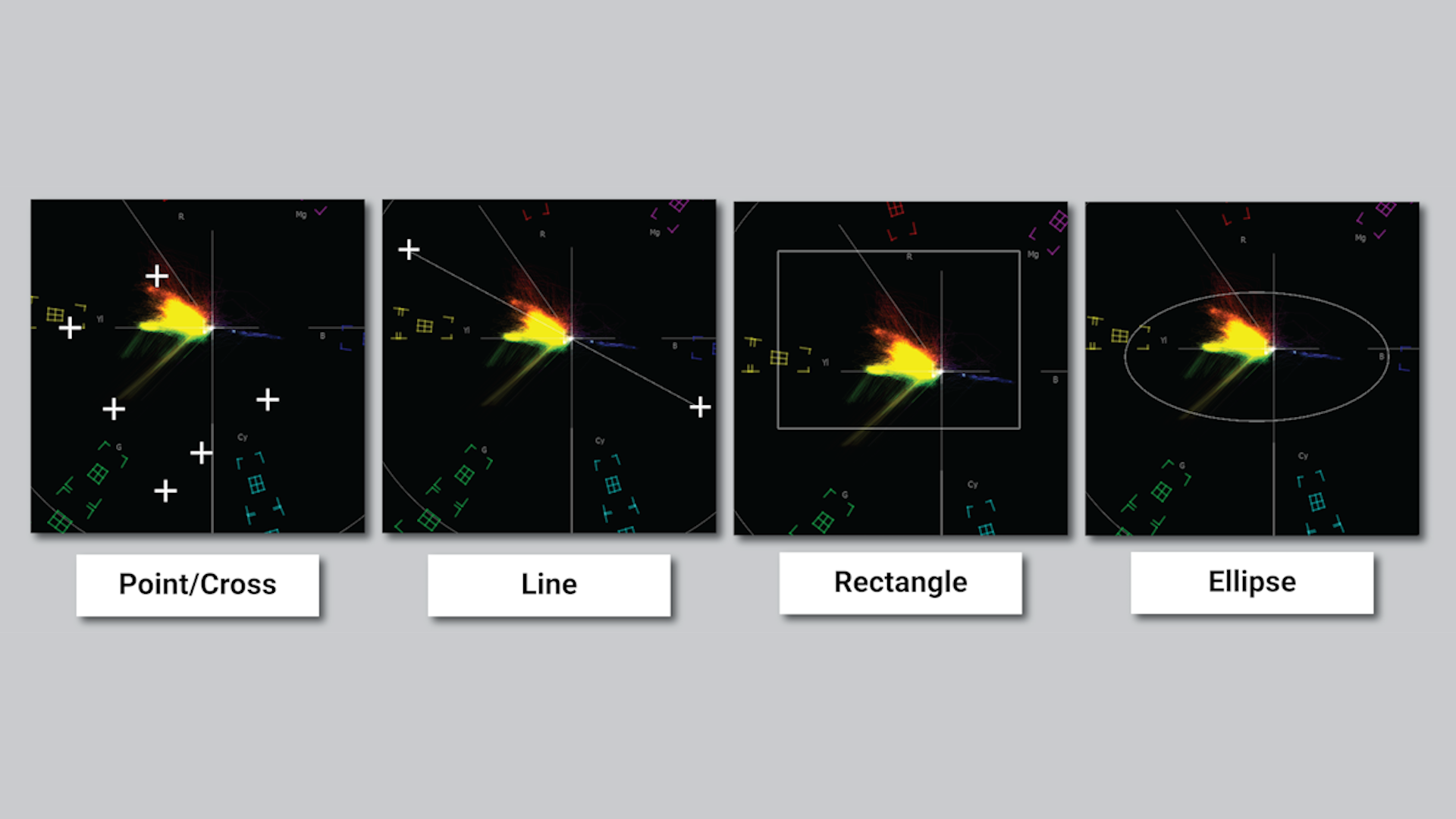 User Markers, Lines, Circles and Boxes
- Users can place plus sign markers (+) and lines on any of the scopes, that will persist to help make exact measurements between different signals.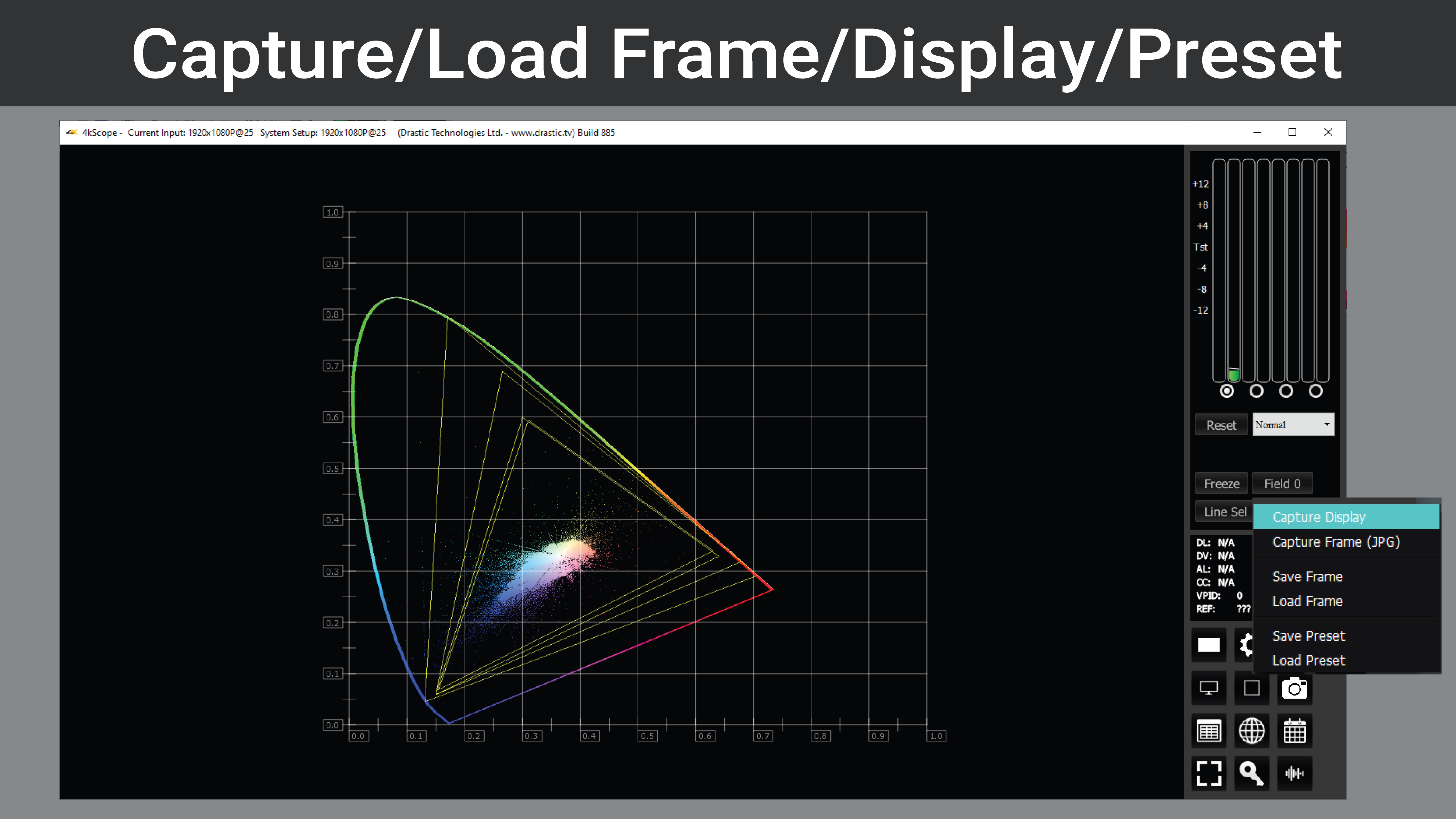 Raw and JPEG Capture
- The incoming image can be captured as a raw (YUV, V210, or RGB10, depending on the input) image in full, bit perfect resolution or a JPEG version for easy sharing. The entire scope's interface can also be captured.
Full HDR Support
- Along with Rec 709, both SMPTE 2084/HDR10 and HLG luminance HDR profiles are supported. BT.2020/WCG is also supported to allow analysis of full color WCG, as well as in contained color display standards list P3.
Loudness and RMS Metering
- All audio meters can be set for EBU9 or EBU18 loudness monitoring, as well as RMS/peak. The status window also supports loudness as a floating point value, and any excursions are automatically collected in the on disk error log.
Vertical Blank Analysis
- Up to 32 lines of vertical blank can be analyzed along with the active picture. Captions, time code and other decodable metadata is automatically detected. Any SMPTE DID/SDID packets found are highlighted in the HEX Data view.
Line and Region Select
- as well as full picture analysis, the scopes can be set to analyze a single line or a rectangular area of the picture, to detect finer detail errors.
Time Code
- read multiple time code types simultaneously and display them in the lower third data area. RP-188 VITC and LTC, SMPTE LTC (analog), vertical blank encoded VITC and RP-215 film KLV time code are all supported.
Full Screen Mode
- Double clicking on the interface will put HDRScope into full screen mode. This maximizes the space for the scopes and the picture, but maintains a time code info line at the bottom of the monitor.
Camera Support
- All SDR (HD/SD) and HDR/HLG cameras are supported along with direct support for ARRI, Canon, RED, Sony, Panasonic and AJA production cameras, utilizing standard or custom curves and/or LUTs.
Main Use Cases
- HDR/HLG/WCG monitoring and validating, SD/HD monitoring. live production, DIT pipelines, broadcast monitoring, remote network monitoring, post production, signal QC and final HDR mastering.
Hardware and OS Support
- HDRScope is available for Windows 64, macOS 10.14 Mojave, and RedHat/Centos 64. It is also available as a hardware device from our partner
CineSys
.
Capture Board Support
- For 8K workflows, the AJA Kona 5 is recommended. For 4K-SD workflows, see
4KScope
for a list of supported hardware.
Full HDRScope demo / walk through
Remote Desktop with 4kScope
Video Inputs

(hardware dependent)

SDI

Single Link SDI/HD-SDI 4:2:2 8/10 bit
Dual Link HD-SDI 4:4:4 10/12 bit
Dual Link HD-SDI 4:4:4:4 10 bit
Quad Link HD-SDI (Quad HD and 4K) 4:2:2 or 4:4:4
8/10/12 bit
3G/6G Dual Link (see dual link above)
3G/6G Dual Rate (see single link above)
12G QHD/4K Quad Link and 2SI 12G (sample interleave)
12G x 4 SUHD/8K 2SI
CCIR-601 (SD), Rec.709 (HD), BT.2020 (WCG), P3 or Rec.709 (QHD/4K)
HDR (High Dynamic Range) as ST2084/PQ/HDR10 or HLG

HDMI

HDMI (1.4 or 2.0+, hardware dependent)

NDI

NDI <network local> - (Network Device Interface) Any NDI audio/video source

Adobe/Avid

AJA shared mode (requires AJA board)
ScopeDirect - receive audio/video from application running on the same machine
ScopeDirect Transmitter (Adobe)
ScopeDirect OpenIO (Avid)
Adobe/Avid NDI

Sync

Reference video sync (Blackburst or Tri-Level, hardware dependent)
Audio Inputs

(hardware dependent)

NewTek NDI®
Embedded audio, up to 16 channels 24 bit
Analog inputs, up to 16 channels 16/24 bit
AES/EBU audio, up to 16 channels 24 bit
Outputs

Main output (computer monitor) from HD up to 8K
Secondary down converted output available
SD/HD/2K down conversion to HDMI and analog
HDMI 4K/8K quadrant output
Available in monitor HDR -> SDR picture conversion
Format Support

(hardware dependent)

SD - PAL/NTSC
720p - 23 / 24 / 25 / 29 / 30 / 50 / 59 / 60
1080i - 23 / 24 / 25 / 29 / 30
1080psf - 23 / 24 / 25 / 29 / 30
1080p - 23 / 24 / 25 / 29 / 30 / 50 / 59 / 60
2K Digital Cinema (2048 x 1080) - 23 / 24 / 25
2K Film (2048 x 1556) - 14 / 15 / 23 / 24
UltraHD/UHD (3840 x 2160) - 23 / 24 / 29 / 30 / 50 / 59 / 60
4K (4096 x 2160) - 23 / 24 / 29 / 30 / 50 / 59 / 60
SUHD (7680 x 4320) - 23 / 24 / 29 / 30 / 50 / 60
8K (8192 x 4320) - 23 / 24 / 29 / 30 / 50 / 60
Processing Modes

8K/SUHD/4K/QHD/HD/SD Processing Modes:

YCbCr 8 bit 4:2:2
YCbCr 10 bit 4:2:2 (standard single link)
YCbCr 12 bit 4:4:4 (dual link or 3G/6G/12G)
RGB 8 and 10 bit 4:4:4:4
RGB 10 and 12 bit 4:4:4 (standard dual link or 3G/6G/12G)
Metadata

(hardware dependent)

LTC/SMPTE analog time code and user bits
VITC/D-VITC vertical blank time code and user bits
RP-188 HANC time code and user bits
RP-215 VANC time code, user bits, key code and ink code
Active Format Description detection
DID/SDID detection and highlighting
Centos/RedHat 7.5. Requires latest AJA drivers (15.5)
Windows 10 or Windows Server. Requires latest AJA drivers (15.5)
Minimum macOS Version 10.14 Mojave. Unzip the app and copy it to the Applications folder.
Please note, Apple's M1 devices are not currently supported.
HDRScope installs in demo mode, with limited functionality. The full feature set of the software can be made available with a license. To obtain a license, please generate a site code and send it to us at: authorization@drastictech.com. We will send back a site key which will remove the demo limitations. Prior to purchase, the key will be temporary. There is more information on the licensing process here: http://license.drastictech.com
How To Purchase HDRScope 8K-SD Waveform/Vectorscope
Drastic HDRScope is the world's most powerful 8K through SD software signal monitoring tool and HDR image analyzer. It includes waveform (luma, YCbCr, RGB), vectorscope.
More great products from Drastic
videoQC is a suite of video and audio analysis and playback tools with both visual and automated quality checking tools. videoQC will take the media coming into your facility and perform a series of automated tests on video, audio and metadata values against a template, then analyze the audio and video. It includes.....
videoQC will take the media coming into your facility and perform a series of automated tests on video, audio and metadata values against a template, then analyze the audio and video. It includes...
Drastic sdiScope is the world's most powerful SD/HD software signal monitoring tool. It includes a range of waveform/vectorscope tools and supports a wide range of low cost hardware.