Net-X-Code
IP Capture, Control, Convert and Output
---
Net-X-Code applications (Net-X-Code, Net-X-Cmd, Net-X-Copy, Net-X-Streamer, videoQC and MediaReactor Workstation plugins) auto-detect and join user-defined enterprise groups on one or more servers within a network. Once connected, the controller/user can configure the system in real time via the HTTP/RESTful interface. The major components are diagrammed and listed below:
90 Seconds With Net-X-Code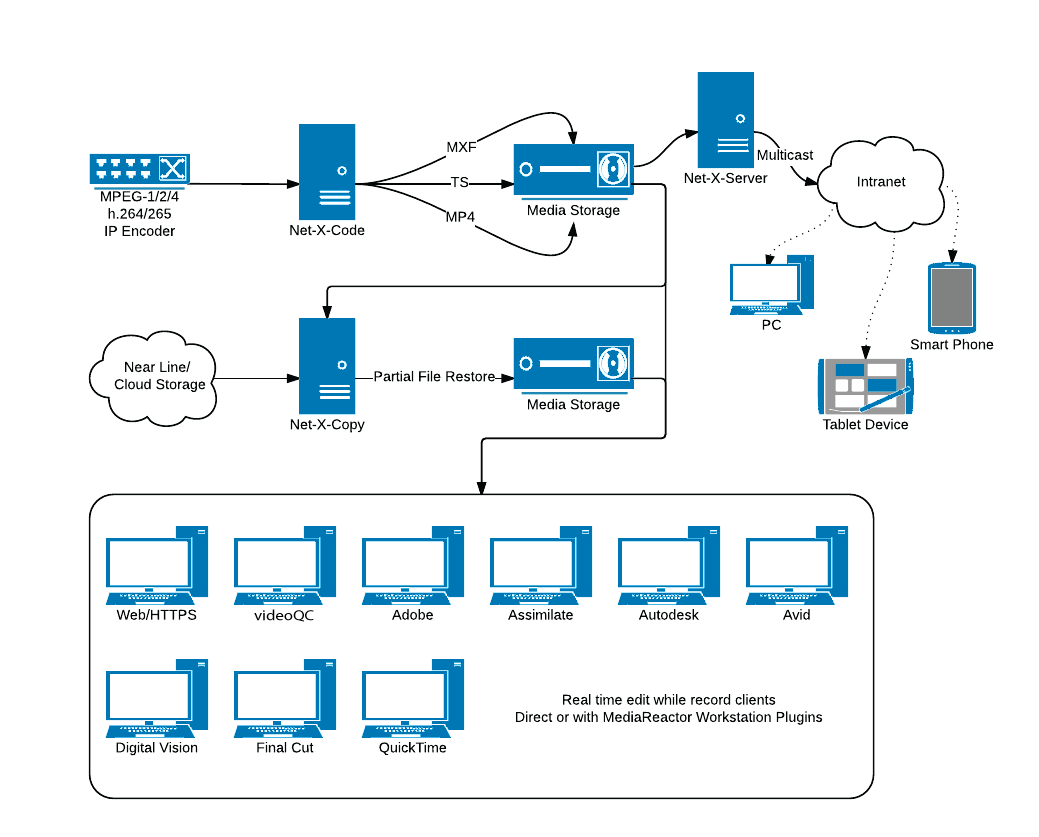 Applications Overview
Net-X-Cmd: This component provides the central connection for all the other components. It uses a Bonjour-like protocol to auto-sense components within its group in the network, and provides the HTTP/RESTful/HTML API
Net-X-Code: Provides capture from network IP video sources to TS, MP4, MXF, etc. files. A Net-X-Code server can capture 1 or more groups of up to 10 streams per group. These recorded files can be stored locally or anywhere else on the network
Net-X-Server: Can take recording or pre-recorded network IP video streams from disk anywhere in the network, and re-stream them via RTP or UDP back out to the network
Net-X-Copy: Is both a real time video translator, real time clipping engine and partial file restore system. Any recording stream can be used as a source while it is still recording, or near line/tape backup files can be restored, only accessing the part of the file required for the restore. Sources include drive, tape, local network, private cloud, Google cloud and Amazon AWS S3.
Net-X-Player: A HTML5 based web player that can play timecoded, frame accurate files, including RTIN real time files during record. Net-X-Player can also send clipping commands directly to Net-X-Base.
videoQC: Video preview is available from on disk, live recording and network video sources. videoQC provides video waveform, vectorscope, histogram and metadata displays, along with clipping and conversions.
MediaReactor Workstation: These plugins allow professional editing and finishing systems to access all the file types created by the Net-X-Code system, and access the real time recording files while they are still growing. MediaReactor Workstation is built into software like Assimilate and NuCoda, and available as an option for other systems like Adobe, Avid, Autodesk, Quantel, Final Cut, and even QuickTime compatible apps.
Net-X-Code - IP Video Capture

Net-X-Code records multiple groups of multiple channels per server. Streams primarily come in as UDP and RTP transport streams or RTSP UDP/TCP streams.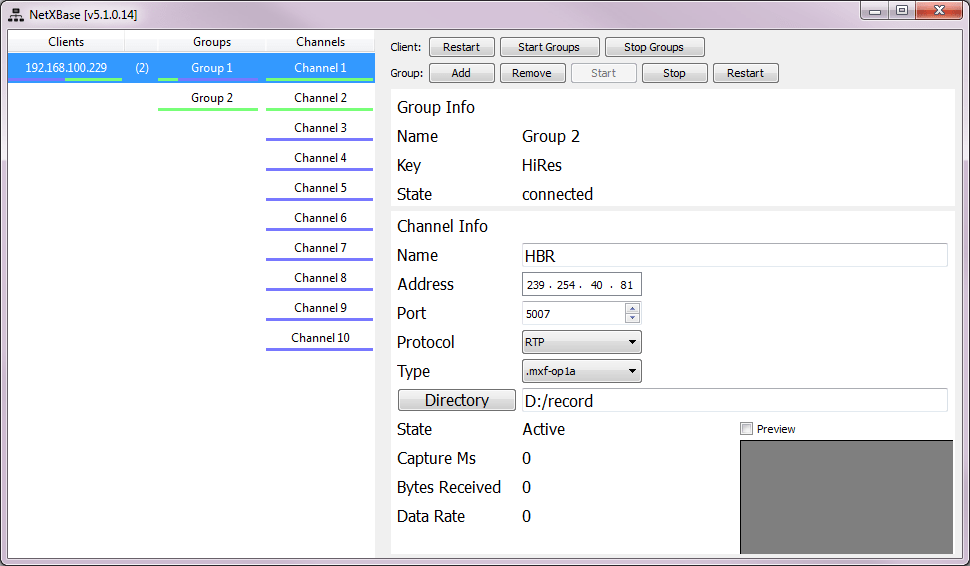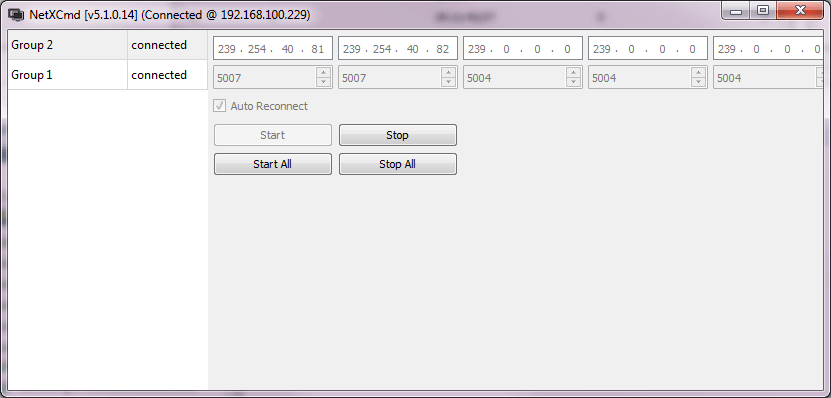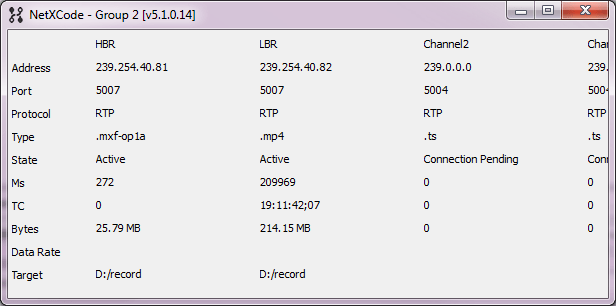 Net-X-Streamer - IP Video Re-Streamer

Net-X-Streamer can stream files from storage, either pre-recorded or live recording, in real time back to the network.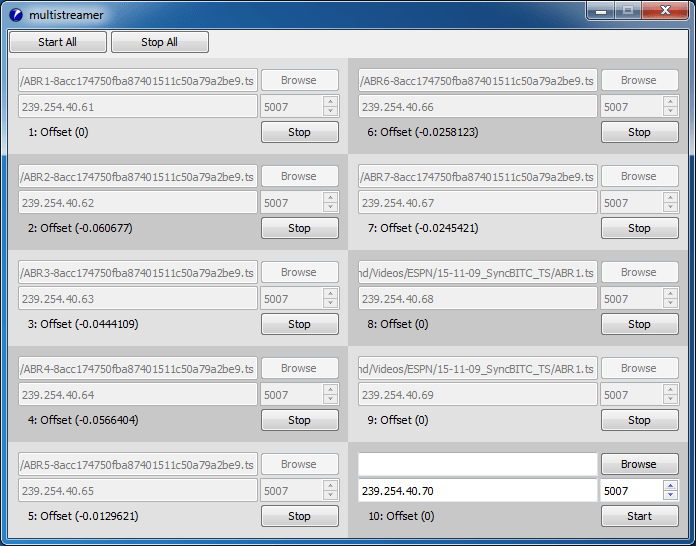 Net-X-Copy - File Clipping, Conversion and Partial File Restore

Net-X-Copy connects into the Net-X-Code environment and provides a number of file translation, transcoding and conversion functions.
Transcode, without re-encoding, recorded and recording files
Translate recorded or recording files into standard file formats like XDCam, P2, OP1a, MP4 and many more
Restore whole files or parts of files to their original format, without re-encoding, loading the minimum required source
Translate parts of files, without loading the whole file, to standard broadcast and post file formats
Index existing files for later restoration without recalling the entire source file
Extraction of metadata and/or closed captioning to external XML and SCC/MCC/XML/Test files
Net-X-Server - Central Server Group Control and HTML/RESTful API
Net-X-Server combines the user defined groups of servers via an auto-discovery protocol. Servers can be started and stopped as needed without affecting the overall Net-X-Code system. All API control for a group of capture, streaming and conversion/restore servers is controlled by a Net-X-Server instance. The architecture is designed to be resilient in terms of network communications, and server and process interruptions. Net-X-Server is a stateless controller, allowing servers and server processes to run independently when the main controller is not available, and to seamlessly reconnect when it becomes available again. Net-X-Server runs as a daemon, but also has a GUI and user configuration HTTP/Web interface.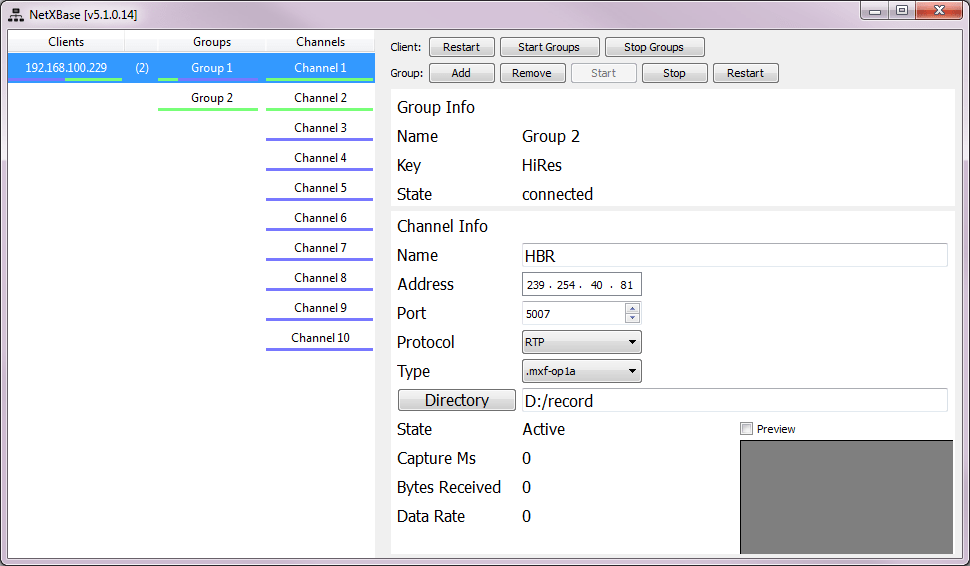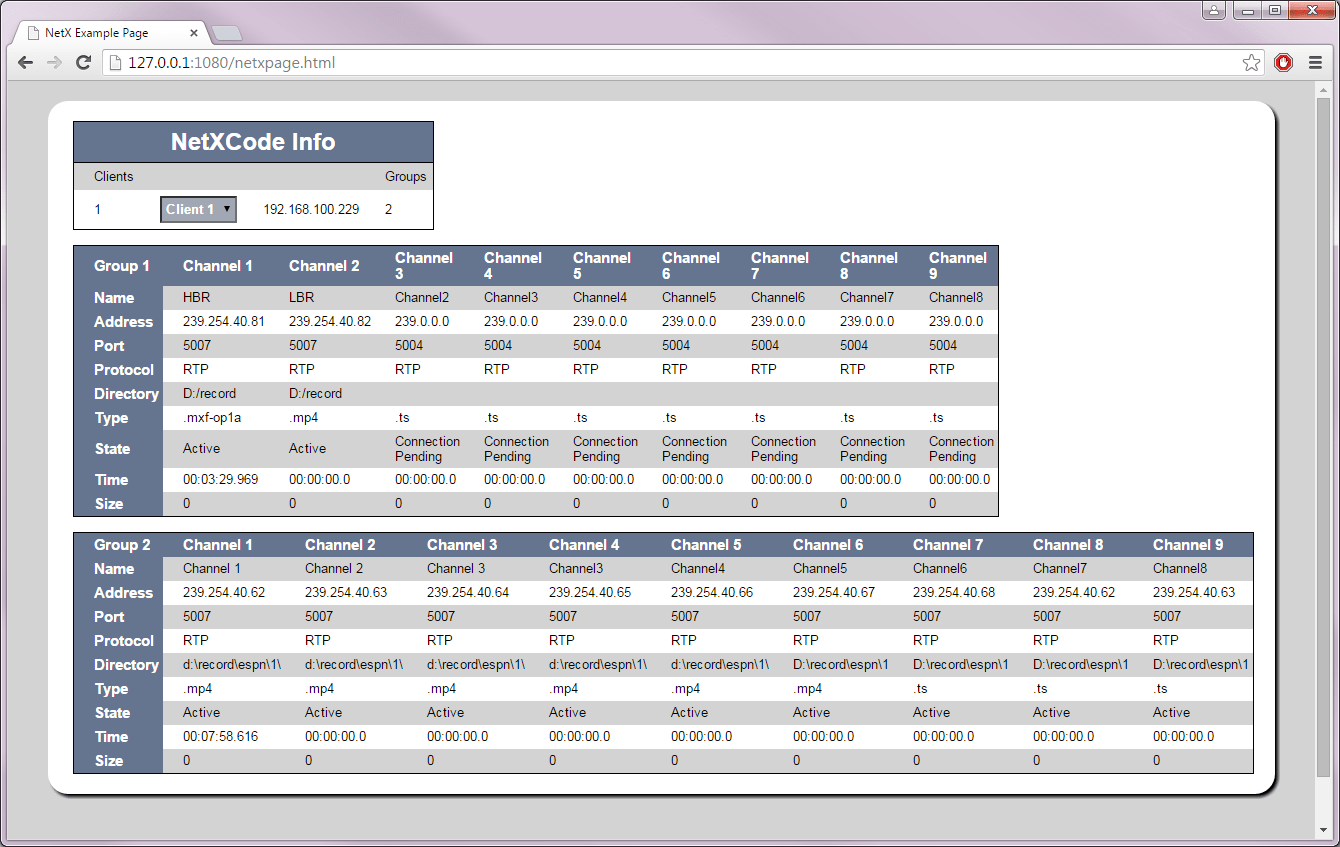 Net-X-Code UI Demonstration
The video below is a demonstration of Drastic's HTML5 demo UI for the Net-X-Code video IP capture, stream, convert and partial file restore server system. This video will cover the major functions of the Net-X-Code system, including Net-X-Base, Net-X-Cmd, Net-X-Code, and Net-X-Copy.
Cloud Support
Net-X-Code supports almost all cloud architectures. The servers within a Net-X-Code group can be run in a VM running Windows, Windows Server, RedHat/Centos or Ubuntu. File access can be made via standard network shares (SMB, NFS, AFS) or directly to cloud storage (Amazon S3, Google Cloud) or via internet standard protocols (HTTP(S), FTP). While many cloud providers are supported, Net-X-Code is currently running on: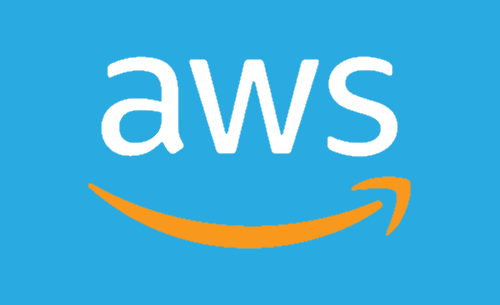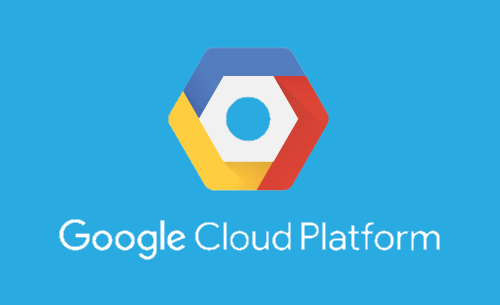 Basic Specifications
Protocols include:
SMPTE-2110 uncompressed video and audio
SMPTE 2022-6 raw uncompressed video/audio
TR-01/Evertz JPEG-2000
UDP transport h.264, h.265/HEVC, MPEG-2, JPEG-2000
RTP

transport h.264, h.265/HEVC, MPEG-2, JPEG-2000

RTSP h.264
HTTP(S), FTP - all supported formats
RTMP h.264
File Access Methods
Local
Network AFP, SMB, NFS, Object Store
Cloud Amazon S3, Google Cloud
Internet HTTP, HTTPS, FTP
Cloud VM Platforms:
Microsoft Azure
Amazon
Google
Docker
Capture formats include: TS, OpenMXF, MXF Op1a, MXF AS-02, MOV, MP4, v6: Fragmented MP4, HLS, DASH, ISMV
Translation formats include: TS, MXF Op1a, MXF AS-02, MOV, MP4, XDCam, P2, Omneon, AVI, v6: HLS, DASH
Video codecs include: MPEG-1, MPEG-2 (4:2:0 and 4:2:2, SD/HD), MPEG-4 (4:2:0 and 4:2:2, SD/HD), AVC h.264 (4:2:0 and 4:2:2, 8 and 10 bit), v6: HEVC, JPEG-2000, TR-01, SMPTE 2110, SMPTE 2022
Translation codecs include: Video codecs, XDCam, HDCam, AVCi100/200/Ultra, Uncompressed, WMV, DNxHD, v6: JPEG-2000, HEVC, TR-01
Audio codecs include: MPEG Layer 1/2, MPEG Layer 3, PCM, AES3, AAC, AC-3 (passthrough)
Manuals and APIs
Net-X-Code Manual (Installation and Operation)
Selected Customers
ESPN, CT - Capture, live clipping, conversion, Quantel/Avid/Adobe, videoQC
NBA, NJ - Capture, Copy/Partial File Restore from tape, videoQC, MediaReactor plugins
Quantel, UK - MediaReactor plugins/DTMediaRead
NuCoda, UK - MediaReactor plugins/DTMediaRead
Assimilate, NL - MediaReactor plugins/DTMediaRead
AutoDesk, PQ - MediaReactor plugins/DTMediaRead