The Drastic DDR SDK is a multi-platform SDK that allows the developer to create a custom function, client branded DDR from Drastic's extensive digital disk recorder technologies. The SDK is available as a direct link, or ActiveX component. The video board, file I/O, control (network, RS-422, VTR) and OS connections are all handled by Drastic DDR under the control of your application. Drastic DDR provides the functionality to allow you to focus on the workflow specific elements.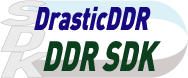 The Drastic MediaCmd SDK is the mechanism by which all the elements of Drastic's DDRs communicate with one another. The control features provided within the SDK include the following:
VTR Emulation - Receiving commands from 9 pin Serial Controllers via Sony, Odetics or VDCP protocol. Receiving commands from Drastic GUIs, Servers and Controllers
Controller - Controlling VVW or Titan Series DDR Servers, Drastic DDR software locally, and Drastic DDR software licensed to support network option remotely. Controlling 9 pin serial VTRs and Servers via Sony, Odetics or VDCP protocol
HTML/AJAX - Building HTML/AJAX status and control pages
The DrasticPreview SDK integrates real time preview of all common production file formats directly into your Windows, macOS or Linux application. This SDK takes care of video display and audio sync for most high end production formats, under control of your application. The interface is available as a direct link (all platforms) and Active-X (Windows). DrasticPreview SDK can provide a video window, or an OpenGL texture to your application. Multi channel audio is available via the PC's audio card.
Drastic DDR HTML AJAX Control
The Drastic DDR HTML/AJAX SDK provides complete access to all the functions for controlling all of Drastic's DDRs. An abstraction of the MediaCmd SDK, commands can be sent from any web browser or web page. The HTML/AJAX version supplies all the same commands as the Drastic DDR MediaCMD SDK used by all Drastic applications.
MediaReactor Workstation is a direct plugin version of Drastic's MediaReactor file translation system. Rather than having to use a separate translation step, the artist can work with incoming footage directly in their preferred creative software. MediaReactor Workstation is available on Windows, MacOS, and Linux x64. It provides plugins for Assimilate SCRATCH/Lab, Digital Vision Nucoda, Autodesk Flame/Flare/Lustre, Avid Media Composer, Adobe CS5.x/6.x/CC, EasyDCP, QuickTime and DirectShow. Many other applications that utilize the QuickTime and DirectShow interfaces are also supported. There are MediaReactor versions from $99.00 US (plugin specific lite versions) to $895.00 US (the full MediaReactor Server with support for all platforms).
The MediaCMD Emulation SDK allows your application to be controlled as if it were a professional production VTR via 9 pin serial control. Standard industry protocols are supported including Sony, Panasonic and Pioneer with extensions. Server protocols like Odetics and VDCP are also supported. The SDK is designed to insulate your application for the demands of individual emulations by providing a consistent, shared interface. All the application needs to provide is frame accurate state information and frame accurate record and playback for completely frame accurate machine control.
MediaReactor File Translation SDK
The MediaCmd Control SDK allows your application to control external VTR and DDR devices via network or RS-422 serial protocols. Your application can act as a controller to direct playback and capture operations on external devices such as VTRs using Sony, Panasonic and other related protocols, as well as Odetics, VDCP/Louth and similar protocols.
Drastic software includes extensive file write capabilities. With the DTMediaWrite SDK, these capabilities can be built right into your software. DTMediaWrite can be accessed on Windows, Mac and Linux in 32 or 64 bit. All the Drastic supported formats are available including everything from internet level mp4/webm/flv to F65/HDCam/XDCam/P2 MXF, Cine/DNG/DPX and most other post production and broadcast formats.