videoQC software supports playing back a variety of network audio/video IP protocols including: UDP, RTP, RTSP, SRT, NDI and SMPTE 2110/2022. This document describes how to access network streams with videoQC.
videoQC Network Stream Playback
You can use videoQC to view a variety of network streams. To attach to a network IP stream, run videoQC and select "open stream". If you want to automatically attach to a stream from a browser link, precede any of the links below with videoqc:// and the browser will load videoQC and the stream automatically. For instance:
videoqc://srt//10.0.0.192:5000?mode=caller&password=823ru8ojw&latency=90&buffering=60&comment=localPCStream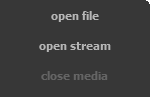 This will bring up the Open url dialog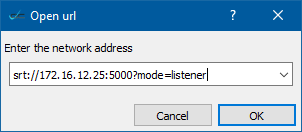 This is where you can enter the network URL. It will also remember the last 10 URLs you have used.
UDP - udp://239.254.10.10:4000

Multicast or direct address plus port

RTP - rtp://239.254.10.10:5000

Multicast or direct address plus port
Also supports TR-01

SRT - srt://172.12.16.24:5000?mode=listener&password=thisisapassword

Multicast or direct address plus port
mode=

listener
caller
rendezvous (not supported yet)

password=<password>
user=<user>
Reader Only Settings:

MinFramesToBuffer=# the minimum number of frames to leave buffered (default: 2)
FramesToBuffer=# the maximum allowed number of buffered frames (default: 20)

RTSP - rtsp://192.100.10.10/video+audio

The RTSP string is completely dependent on the source

NDI - ndi://USER-PC (Logitech QuickCam 9000)

The string after ndi:// will be defined by the stream source.
The dialog will attempt to find local streams and populate the pulldown menu

SMPTE 2110/2022
videoQC browser links

Precede any of the above with videoqc:// and remove their colon. So udp://239.50.50.50:2000 becomes
videoqc://udp//239.50.50.50:2000
For more details on streaming URLs:
---
Trademarks, Registered Trademarks, and Copyrights

Trademarks, Registered Trademarks, and Copyrights


Drastic Technologies, Ltd. – Drastic Technologies, Drastic, Drastic.tv, videoQC View, videoQC Pro, videoQC Inspect, videoQC Workstation, FlowCaster, Network Video Analyzer, 2110Scope, HDRScope, 4KScope, sdiScope, Net-X-Code Server, Net-X-Code Channel, Media File Scanner, MediaReactor, MediaReactor Workstation, MR Lite, ccConvert, Net-X-Proxy, Net-X-Convert, MediaNXS, ndiScope, DrasticPreview, QuickClip, DDRConfig, and SyncControl are registered trademarks of Drastic Technologies, Ltd.
Logitech International SA - LOGITECH is a trademark of Logitech International SA
NewTek, Inc. - NDI, TriCaster, 3Play, TalkShow, Video Toaster, LightWave 3D, and Broadcast Minds are registered trademarks of NewTek, Inc.
Society of Motion Picture and Television Engineers - SMPTE is a trademark of Society of Motion Picture and Television Engineers.
All other trademarks are the property of their respective owners

More great products from Drastic