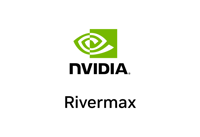 2110Scope, Net-X-Code, videoQC, and FlowCaster software support Rivermax for software based SMPTE 2110/2022 input and/or output with NVIDIA Rivermax®, ConnectX-6 and BlueField network adapters. This article outlines the appropriate driver, firmware and software setup. It also includes links to articles on optimizing your system to best make use of Rivermax as a virtual I/O system.
NVIDIA Rivermax Hardware
The NVIDIA Rivermax® + ConnectX-5/6/BlueField2 adapter card combination fully enables compliance with M&E specifications, such as the SMPTE 2110-22; reduces CPU utilization for video data streaming; and removes bottlenecks for the highest throughput. It can reach 82 Gbps of streamed video with a single CPU core.
Rivermax-accelerated applications stream not only video, audio, and ancillary data but other data stream formats as well, enabling the Rivermax accelerations and CPU savings required for high bandwidth applications such as broadcast and production quality video streaming.
How to Install
Installing Rivermax
Once the ConnectX-6 or BlueField network card is installed in the system, you will need to load the correct drivers, firmware, and license Rivermax.
Driver
Install the Mellanox/NVIDIA driver (current Rivermax is 1.9 so WinOF2 2.80.xxx)

Select "WinOF-2 Download", "Archive Versions" and "2.80" for your OS
To install for Rivermax, you must specify it on the command line:
MLNX_WinOF2-2_80_50000_All_x64.exe /v"MT_RIVERMAX=1 /l*vx log.txt
Firmware
Get the correct firmware and burning tools
Hardware Settings
There are two important settings for the ConnectX/BlueField hardware:
Loopback - Disable Unicast and Multicast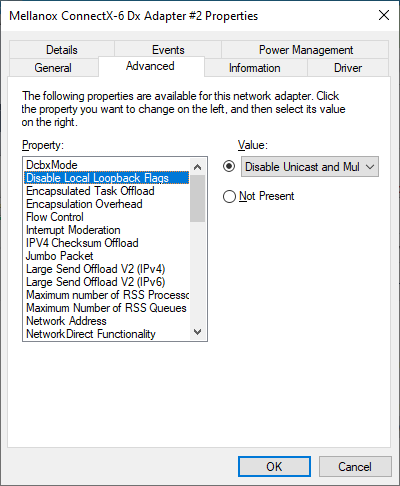 and Flow Control - Disabled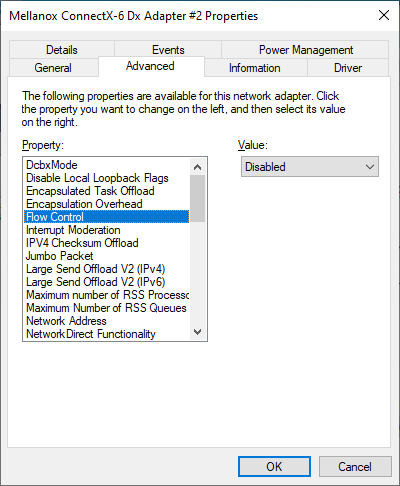 BlueField Setup
Follow the instructions in
to set up the DPU's PTP reader for hardware PTP handling. Please feel free to This email address is being protected from spambots. You need JavaScript enabled to view it. if you need more information.
License
To use Rivermax, you will need to request a license from an authorized NVIDIA reseller. The licenses are each specific to a certain type of board, so you will need to confirm the appropriate solution for your workflow. To find an NVIDIA reseller in your area, you can check out their Partner Portal.
Install the Rivermax license here: C:\Program Files\Mellanox\Rivermax\lib\rivermax.lic
NVIDIA Rivermax Solutions for Drastic Software
Some Drastic software uses NVIDIA Rivermax to send and receive ST-2110. Please see the Software tab of this page for more information.
Trademarks, Registered Trademarks, and Copyrights

Trademarks, Registered Trademarks, and Copyrights

Apple Inc. - Apple, the Apple logo, Final Cut, Final Cut Pro, Apple TV, iPad, iPhone, iPod touch, iTunes, Mac, Mac OS X, macOS, Shake, Final Cut Pro, ProRes, and QuickTime are trademarks of Apple Inc., registered in the U.S. and other countries.
Drastic Technologies, Ltd. – trademarks specified here.
NVIDIA Corporation - NVIDIA, the NVIDIA logo, NVIDIA Quadro, Rivermax, BlueField2, PhysX, and NVIDIA RTX are trademarks and/or registered trademarks of NVIDIA Corporation in the U.S. and/or other countries
All other trademarks are the property of their respective owners

More great products from Drastic