If you have followed the quick start setup in the manual, your server is now ready to demonstrate all the major features of the Net-X-Code tool set. The easiest way to to do this is to install the demo media zip, and follow the steps below.
Server Demonstration - Quick Start
The demo media zip should be unzipped in the http root, so the file folder structure is correct:
cd \var\www\html
unzip NetXCodeDemoMedia.zip
This will put the following files on your system:
video\streamTS\ABR.ts
video\streamTS\LBR.ts
video\streamTS\HBR.ts
video\media\sourceLBR.mp4
video\media\sourceABR.mp4
video\media\sourceHBR.mxf
video\dash\dashABR.mdp/m4v/m4a
video\hls\hlsABR.m3u8/ts
video\archive\archiveHBR.mxf
video\archive\archiveHBR.rtin
video\archive\archiveLBR.mp4
video\archive\archiveLBR.rtin
video\live\
The sub directories under video are meant to represent different storage systems available to Net-X-Code in your facility. The directories and their meanings are:
\video\streamTS – source video IP streams to stream out to the network
\video\media – the main media store for editing/production and receiving clips
\video\dash – a storage system holding DASH files for external playback
\video\hls – a storage system for holding HLS files for IOS/Android external playback
\video\archive – a slower HD, tape or cloud storage for archive files
\video\live – the storage to capture video IP streams to
Start Streams
This starts and stops the RTP streaming of the HBR (high bit rate), LBR (low bit rate) and ABR (web level bit rate) files. Channels 0, 1 and 2 in Group 2 have been pre-configured for streaming at 239.254.30.30, 239.254.30.31 and 239.254.30.32 respectively. Simply click on start/stop functions to stream.
The Re-stream section allows a user to restream a live capture. Simply configure the stream and specify Net-X-Code client and target stream address and port
Start Capture
The next section in the home page is the Capture section. This provides a snapshot of the status of all Net-X-Code groups. The channels for each group are also denoted in 'green' when there is an active capture or 'red' otherwise. "More", will provide a detailed information on the group and its channels. Additionally, 'NetXBase Status' tab at the top-right of the webpage also provides more information about Net-X-Code.

In the Capture Section, there are two main areas: Add Capture & Capture Functions.
Add Capture
This allows a user to create a new Net-X-Code client. In order to create a new client, a unique key name for the group is required. There are 2 ways to create a new client:
1. Enter a unique group name and add settings for each channel (or leave default values) and click on the Submit button.
2. Add settings for all channels, click on Apply to Channels and Submit.
In both instances an HTTP request is sent to Net-X-Base with the parameters used to create the group.
Return Messages:
Empty field: Missing parameters
SUCCESS: Group Created.
FAIL: key already in use.
ERROR: NetX Connection Refused.
Capture Functions
This opens a dialog box with Net-X-Code functions such as start, stop, restart and delete capture functions.
Return Messages:
FAIL: Could not complete operation.
SUCCESS
ReStream
This starts streaming the live captures back out as RTP. Please note, the capture channels must be set to .TS for the restream to work. Contact This email address is being protected from spambots. You need JavaScript enabled to view it. for more information on this feature.
File Workflows
This section demonstrates both the live, playback and partial file restore functions
View Live Captures
This button brings up a Net-X-Player instance and allows you to select and view any proxy or ABR level live streams being captured using their RTIN files. Clicking on the thumbnails or the name buttons will load the file. The transport controls can be used to move around the file, and the LIVE button will play at the head of the record.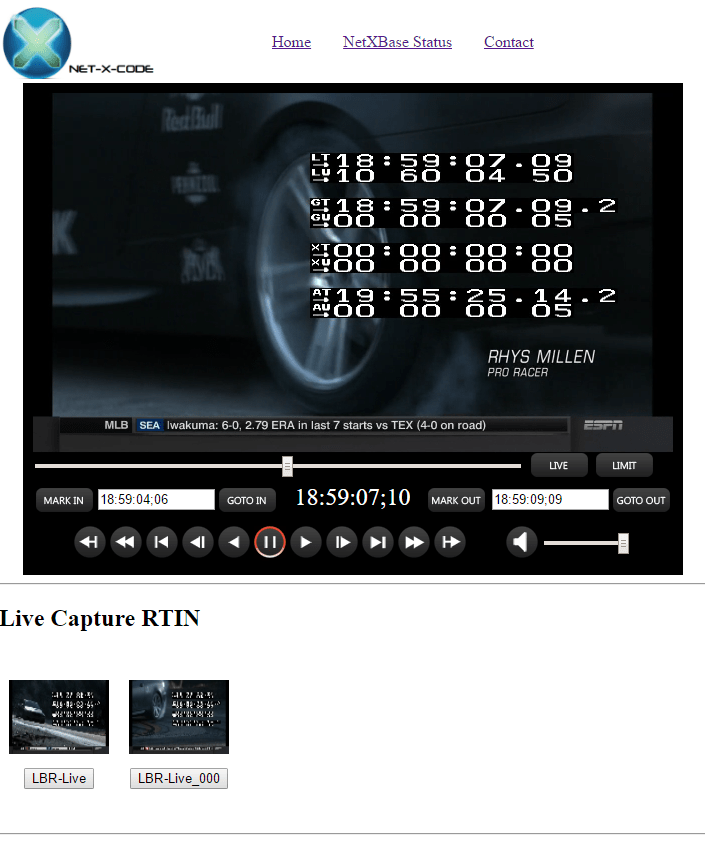 Make A Clip
This button will bring up a Net-X-Player in a new window and allow you to select a live recording RTIN or MP4 from the media folder. Once loaded, time code based in and out points can be set. The NetX server IP to be used can be set along with an output directory, output file name and output type. The output types include:
Copy File – copy the entire file
Create RTIndex – make an RTIN file for later partial file restored
Partial File Restore – extract an audio/video/tc/cc section of a file and create a new file of the same type without recompressing the video/audio
QuickTime MOV Uncompressed – full or partial file conversion
QuickTime MOV DVHD – full or partial file conversion
QuickTime MOV h.264/AVC1 – full or partial file conversion
QuickTime MOV ProRes 4:2:2 – full or partial file conversion
QuickTime MOV ProRes HQ – full or partial file conversion
MXF OP1a DVCPro 720p HD – full or partial file conversion
MXF OP1a DVCPro 1080i HD – full or partial file conversion
MXF Sony XDCam 720p – full or partial file conversion
MXF Sony XDCam 1080i – full or partial file conversion
MXF OP1a XDCam 32 audio – full or partial file conversion
MXF HDR XDCam 50 4:2:2 – full or partial file conversion
MXF AS-11 DPP HD AVCi100 – full or partial file conversion
MXF AS-11 DPP SD IMX 50 – full or partial file conversion
Once the conversion is set up, clicking the 'Clip' button in Net-X-Player will create the new file.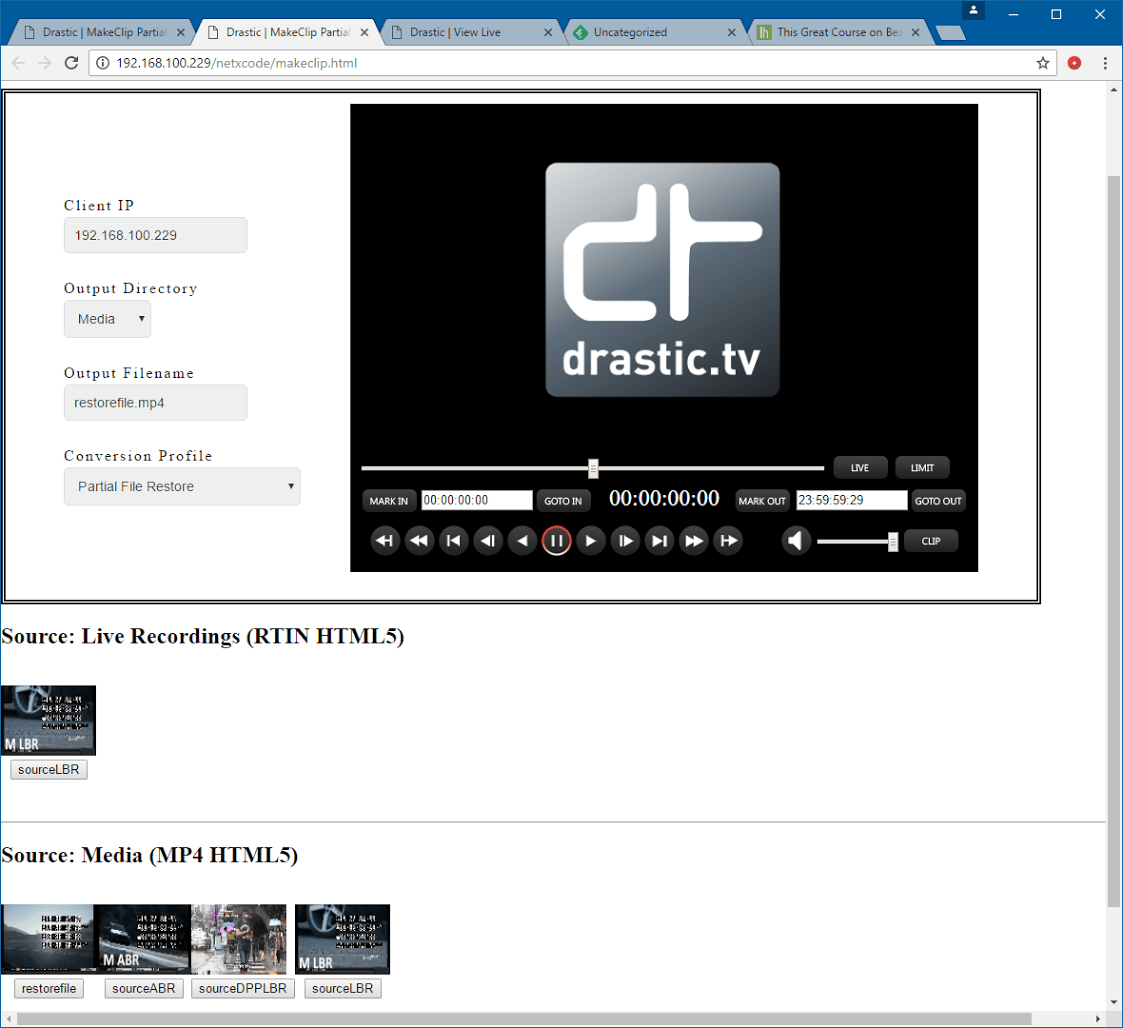 Partial Restore From Archive
This button demonstrates a partial file restore workflow. Loading the LBR or ABR clip from the archive files at the bottom of the page will load Net-X-Player so in and out points can be set. As with the Make Clip button (see above), this 'Clip' button on the Net-X-Player will cause a new file to be made, but in this case it will use the HBR file as the source for the conversion. This is conceptually how a partial file restore archive system would work, where the user loads MP4/RTIN files from a web store, and once the section of the file is selected, the command is set up to use the original, high quality file on tape, slow storage or cloud storage by replacing the source file and using the matching time codes.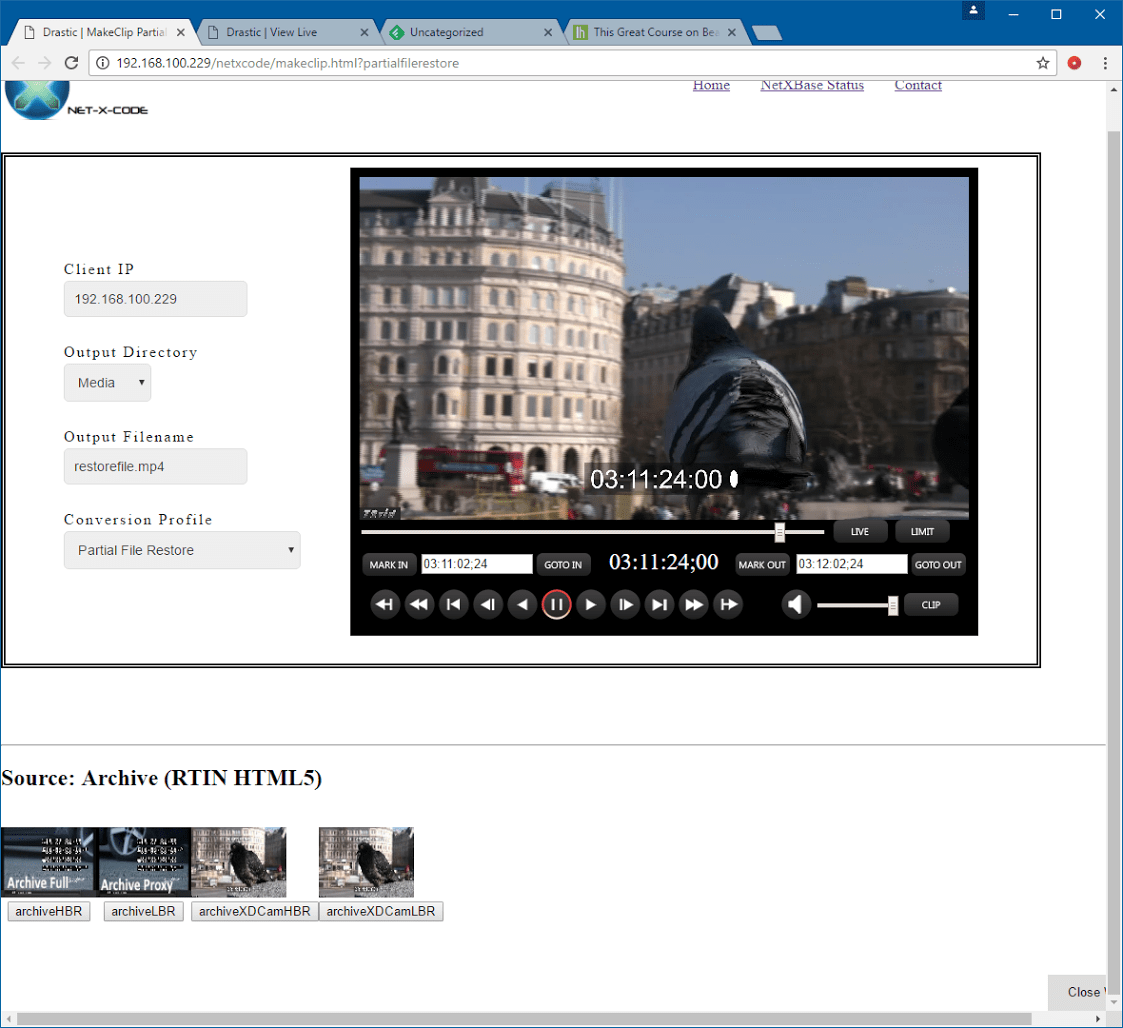 Move Files Live/Media/Archive
The move files area is an example of how to use the Net-X-Code server system to move arbitrary files between the storage available to it.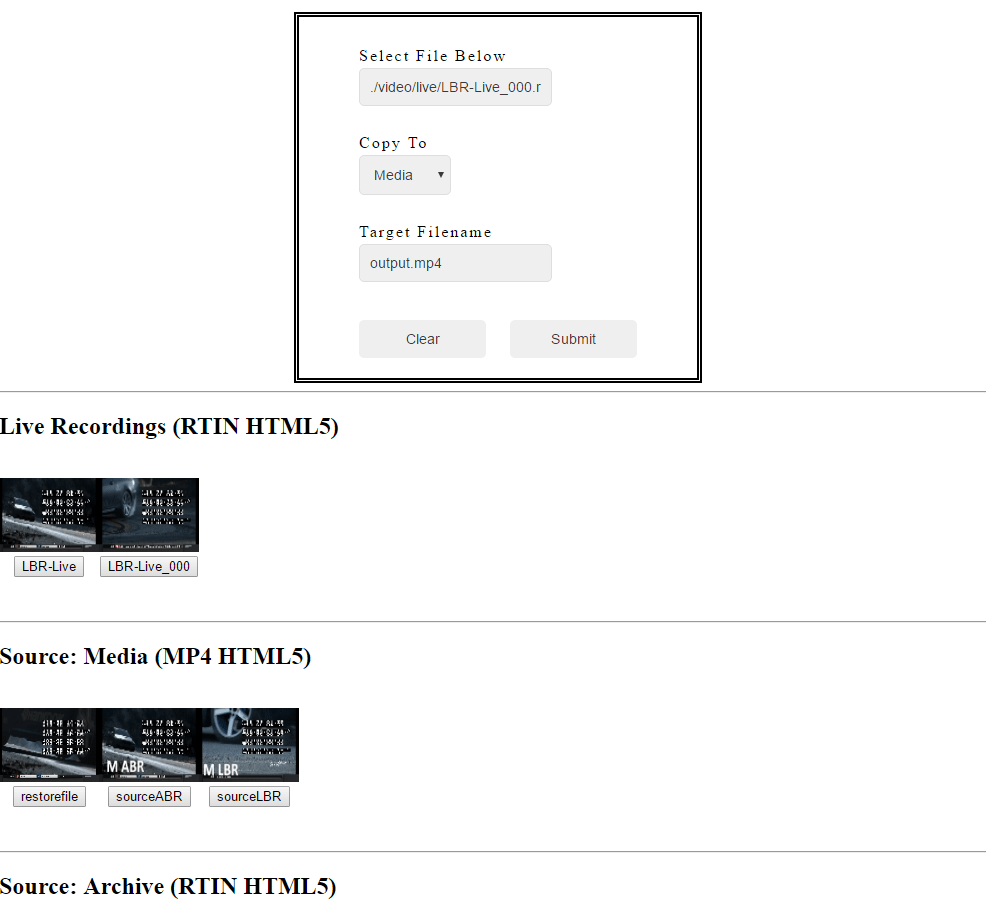 More great products from Drastic