videoQC software supports playing back a wide variety of file formats, including MXF/MP4/MOV/AVI, image sequences like DNG/EXR/TIFF/TGA, camera raw files like Cine/KRW/MLV/DNG, and even more esoteric files like AAF, IMF, DCP, AS-02, OP Atom, Raw, and JPEG-XS. Because videoQC includes a FlowCaster component, these files can also be streamed out to your browser/webrtc/srt/udp/rtp/2110/cdi/ndi viewer. videoQC also includes a REST api that allows remote control of the stream from the browser for loading, playing, pausing, seeking and setting up your file QC session.
videoQC - QC In Your Browser
To QC files in your browser, you will need to install videoQC and FlowCaster on your system.
Run FlowCaster to set up the BLS stream. Select the Config tab and click on the Creative Software button.
For QC in your browser, set the Transmit Type to Browser Live Stream (BLiSs Protocol), and set the URL to bls://0.0.0.0:5000.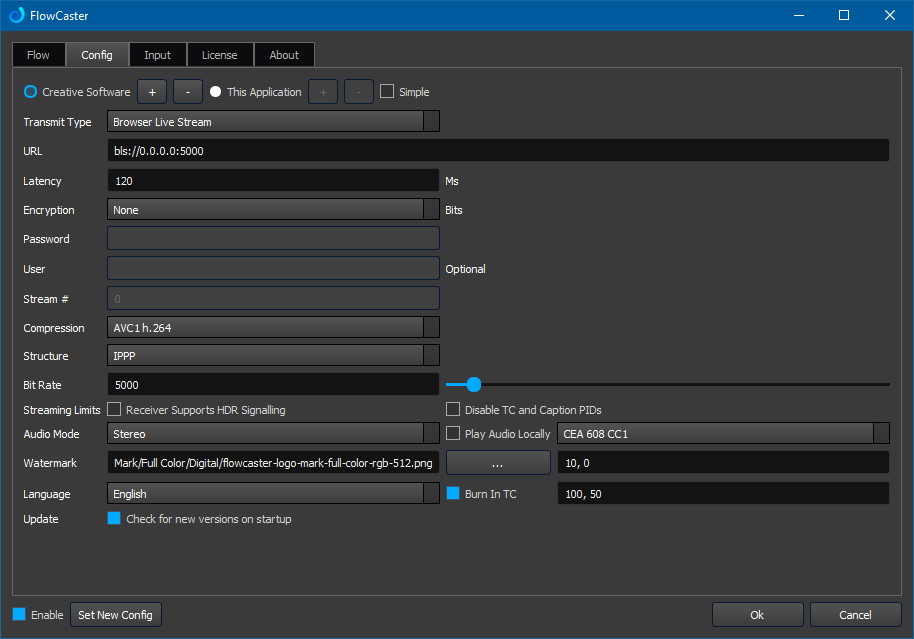 Next, set the Structure to IPPP for lower latency and the Bit Rate to 5000 or more for higher quality.
Once the FlowCaster settings above have been confirmed, run videoQC, and click on the settings menu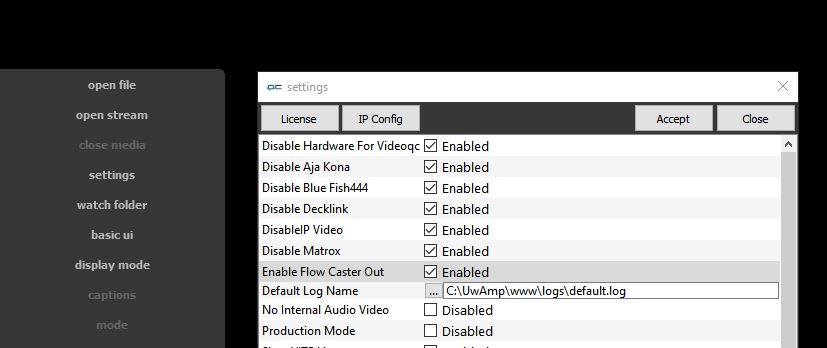 Confirm that Enable FlowCaster Out is checked. This will make videoQC send whatever it is playing back to the FlowCaster target.
Confirm that IgnoreHTTP is not checked further down, or you will not be able to control the playback.
To start QC'ing, load a file into videoQC via "open file", drag & drop, command line, or rest command. Point your browser at:
(or you can use your machine's actual IP address) and you should see something like this:
This address will only let you monitor the output of the playback. To control it as well, go to either
http://127.0.0.1/index_bls.html
or
http://127.0.0.1:1080/index_bls.html
(depending on your configuration) and from there you can control and QC the video, audio and optionally overlaid closed captions.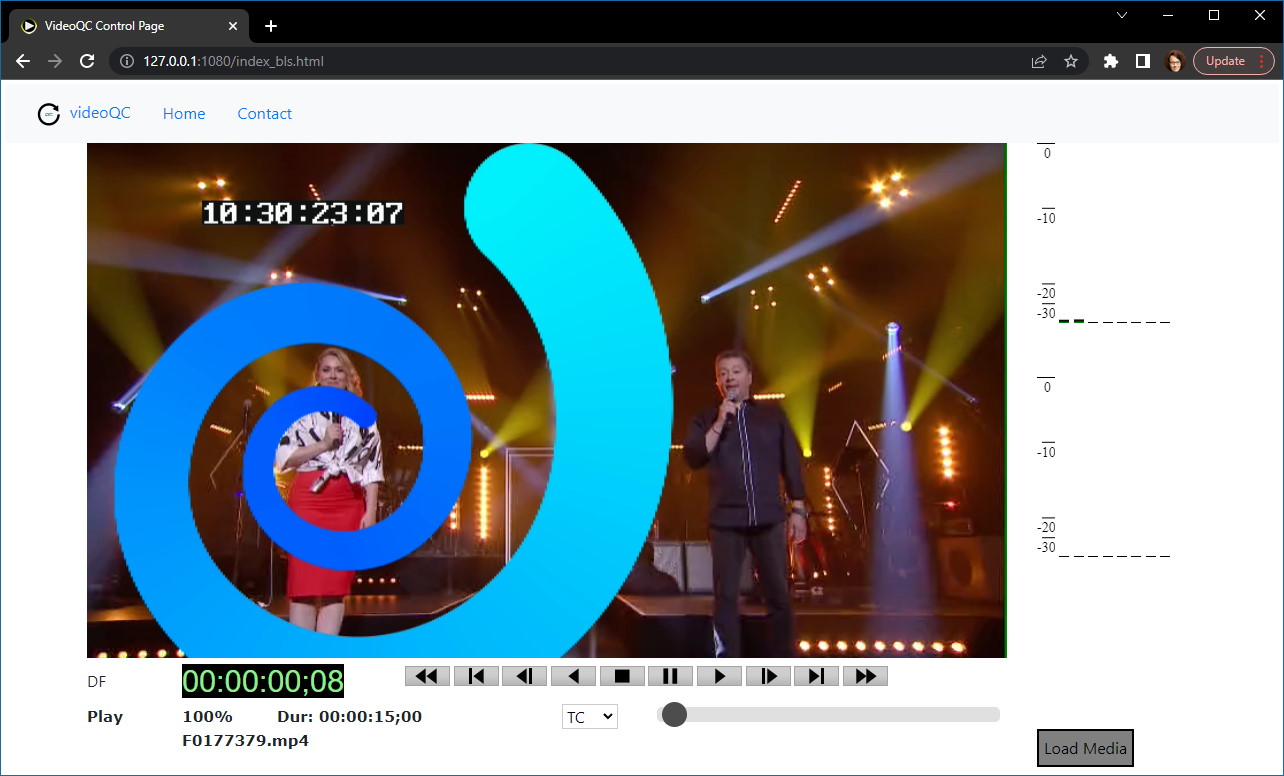 ---
Trademarks, Registered Trademarks, and Copyrights

Trademarks, Registered Trademarks, and Copyrights

Drastic Technologies, Ltd. – trademarks specified here.
MPEG LA - MPEG LA licenses patent pools covering essential patents required for use of the MPEG-2, MPEG-4, IEEE 1394, VC-1, ATSC, MVC, MPEG-2 Systems, AVC/H.264 and HEVC standards.
NewTek, Inc. - NDI, TriCaster, 3Play, TalkShow, Video Toaster, LightWave 3D, and Broadcast Minds are registered trademarks of NewTek, Inc.
All other trademarks are the property of their respective owners

More great products from Drastic