4kScope / HDRScope
4K HDR Waveform Vectorscope Audio/Video Monitor
---
4kScope software provides a real time, professional quality signal analysis tool for on set, production, post production, and research and development environments. 4kScope is designed to monitor from 4096x2160 down to NTSC/PAL and everything in between. It supports SDR and HDR image analysis with support for 601, 709, 2020, HDR10 and WCG color spaces. Multiple audio and video scopes can be selected in a variety of layouts depending on your monitoring needs.
90 Seconds With 4kScope
View your color bars, test patterns, live camera or telecine signal for device or facility installation, setup, commissioning, certification and other operational reference. Confirm that the color gamut and analog transmission limits are not violated and that the color phase is accurate.
Version 5.0 of 4kScope provided zoom, safe zones, line/dot, line/area select and support for everything from SD to 4K 60p for AJA, Bluefish444 and Blackmagic video boards.
Version 6.0 adds multiple, simultaneous scopes as well as audio phase/waveform displays, chromaticity and running status pages.
Version 6.1 also supports 12 bit RGB and YCbCr/YUV 4:4:4 workflows so you can monitor and analyze HDR images from 12 bit capable software like Autodesk Flame, DaVinci Resolve, and Colorfront. Event logging, raw capture and remote, plus an HTML web-based UI has been added for remote monitoring and operation.
The Interface
There are fourteen main components to 4kScope:
Picture including view modes:

Red only, green only, blue only, luma only
Zebra luma, zebra chroma, clipping
Edge difference, focus assist, flip/flop
False color

Vectorscope (with WCG support)
Waveform Luma (with HDR10 support)
Waveform RGB

(with HDR10 support)

Waveform YCbCr

(with HDR10 support)

Histogram RGB
Histogram Luma
Chromaticity
Status
Audio vectorscope
Audio waveform
Audio histogram
Audio phase
Event logging list (signal loss, change, gamut, etc)
and a separate data view.
The thirteen components can be arranged in five different layouts: single, side by side, one large/three small, four quadrants and six up (three across, two down). To the right of the scopes either 8 or 16 audio meters are displayed for loudness or peak/rms. Below the meters there is a status window that displays time code and user bits for the RP-188 V and RP-188 L SDI inputs and the analog SMPTE time code input if available. If closed captions are detected, their presence and type is also displayed.
Multi
Multiscope Display
The user may arrange their scopes using various layouts. At the top of the scope setup window, icons let the user select between: Single scope, two scopes side by side, four scopes in a 2x2 grid, and six scopes in two rows of three.

Clicking on the four scopes icon for example, (third from the left) produces the scope setup window with four panels up.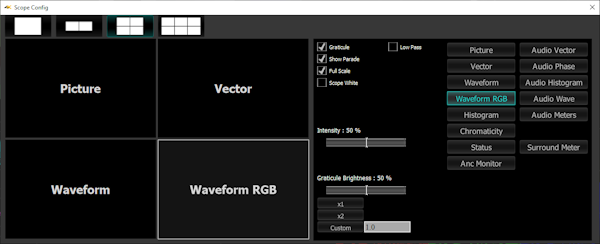 Clicking on each of the panels allows the user to set which scope is displayed there, and which graticules are displayed, along with a number of other settings. Following is a scopes setup with four scopes up: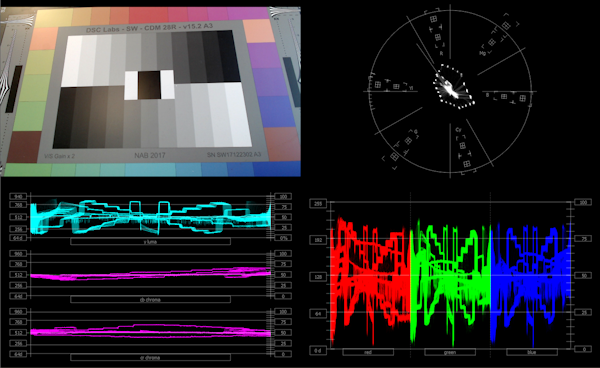 This email address is being protected from spambots. You need JavaScript enabled to view it.