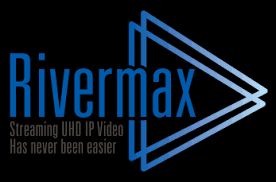 2110Scope, Net-X-Code, and FlowCaster software support Rivermax for software based SMPTE 2110/2022 I/O with Mellanox/NVIDIA ConnectX-6 and BlueField network adapters. This article outlines the appropriate driver, firmware and software setup for Rivermax. It also includes links to articles on optimizing your system to best make use of Rivermax as a virtual I/O system.
NVIDIA Rivermax Hardware
The Rivermax-ConnectX-5/6/BlueField2 adapter card combination fully enables compliance with M&E specifications, such as the SMPTE 2110-21; reduces CPU utilization for video data streaming; and removes bottlenecks for the highest throughput. It can reach 82 Gbps of streamed video with a single CPU core.
Rivermax-accelerated applications stream not only video, audio, and ancillary data but other data stream formats as well, enabling the Rivermax accelerations and CPU savings required for high bandwidth applications such as broadcast and production quality video streaming.
Installing Rivermax
Once your ConnectX-6 or BlueField network card is installed in the system, you will need to load the correct drivers, firmware, and enable Rivermax.
Driver
Install the Mellanox/NVIDIA driver (current Rivermax is 1.9 so WinOF2 2.80.xxx)

Select "WinOF-2 Download", "Archive Versions" and "2.80" for your OS
To install for Rivermax, you must specify it on the command line:
MLNX_WinOF2-2_80_50000_All_x64.exe /v"MT_RIVERMAX=1 /l*vx log.txt
Firmware
Get the correct firmware and burning tools
Find your card with
mdevices status
It should return something like "mt4125_pciconf0". This can then be used to burn the firmware with
mlxburn -dev mt4125_pciconf0 -image fw-ConnectX6Dx-rel-22_32_2004-MCX623102AN-ADA_Ax-UEFI-14.25.18-FlexBoot-3.6.502.bin
If the firmware is newer, it will be installed on your card. Once it completes, power down the machine completely, and then restart.
Hardware Settings
There are two important settings for the ConnectX/BlueField hardware:
Loopback - Disable Unicast and Multicast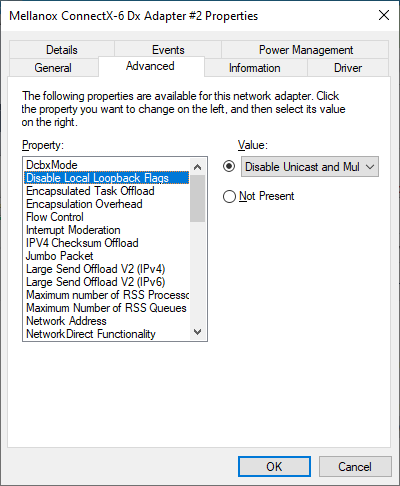 and Flow Control - Disabled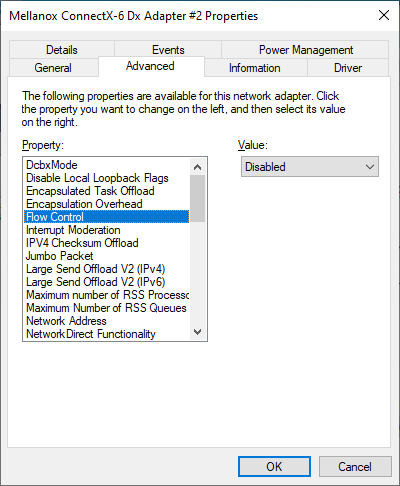 BlueField Setup
Follow the instructions in
DPU_Deployment_Guide_1_09.pdf
to set up the DPU's PTP reader for hardware PTP handling. Please contact us for more information.
License
To use Rivermax, you will need to request a license from an authorized NVIDIA reseller. Each license is board-specific so you will need to research the hardware first.
Install it here: C:\Program Files\Mellanox\Rivermax\lib\rivermax.lic
Setup
FlowCaster
Run the FlowCaster application and select Rivermax 2110 to use it to send, or NIC IP Video to use it as a board. The flows can then be set up by NMOS or manually with ipVideoConfig
Net-X-Code Server
In Net-X-Code Server, Rivermax shows up as a 'video board' called NIC IP Video.
2110Scope
In 2110Scope, you will select NIC IP Video and it can then be set up by NMOS or manually in the IP Video Config dialog.
---
Trademarks, Registered Trademarks, and Copyrights

Trademarks, Registered Trademarks, and Copyrights


Drastic Technologies, Ltd. – Drastic Technologies, Drastic, Drastic.tv, videoQC View, videoQC Pro, videoQC Inspect, videoQC Workstation, FlowCaster, Network Video Analyzer, 2110Scope, HDRScope, 4KScope, sdiScope, Net-X-Code Server, Net-X-Code Channel, Media File Scanner, MediaReactor, MediaReactor Workstation, MR Lite, ccConvert, Net-X-Proxy, Net-X-Convert, MediaNXS, ndiScope, DrasticPreview, QuickClip, DDRConfig, and SyncControl are registered trademarks of Drastic Technologies, Ltd.
Mellanox Technologies, Inc - Mellanox® and ConnectX® are registered trademarks of Mellanox Technologies, Inc
NVIDIA Corporation - NVIDIA, the NVIDIA logo, NVIDIA Quadro, Rivermax, BlueField2, and NVIDIA RTX are trademarks and/or registered trademarks of NVIDIA Corporation in the U.S. and/or other countries
Society of Motion Picture and Television Engineers - SMPTE is a trademark of Society of Motion Picture and Television Engineers.
All other trademarks are the property of their respective owners.

More great products from Drastic