The Mini3D is a portable stereo RAW and HD-SDI uncompressed digital disk recorder and viewer designed for economical on set capture. It encodes in real time to all major uncompressed and compressed 2D and 3D formats including DPX, MOV, and CineForm. Access all the tools with the touch screen, including clip selection and playback, signal monitors, metadata, setup, view system performance and more.
Hardware
The Mini3D is a compact 7.6"H x 12"W x 4.5"D designed for setup and use on any available surface, or to mount directly to a camera. Mounting hardware and custom storm case are available for on-camera installation.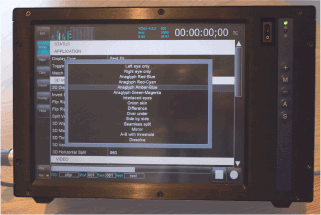 The unit weighs 11.5 pounds with battery, or less with external power. Standard industry connectors are provided for ease of setup and operation.
Interface
The dTouch interface provides an intuitive set of controls and displays for clip capture and playback, signal analysis and review, metadata maintenance and display, and also includes a range of setup tools.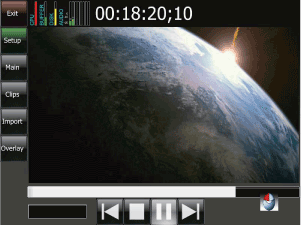 The touch and swipe functionality will be immediately accessible even to users without a technical background. Easily start and stop capture, select clips for playback and metadata review, import clips to your preferred format. View recording or playback through the onboard display, as well as built in vector scope, waveform monitor (luma/RGB), or histogram display.
Specification
The Mini3D viewer provides a number of industry unique features including:
Largest screen (10.4"), with removable weather shield
Highest Contrast 1200 Ratio for deep blacks
Sunlight Readable with Brightest possible daylight viewing with an adjustable 800 Nit backlight
Touch Screen Software – Direct-to-disk recording and/or review for 2D/3D, SDI and Raw cameras
Configuration Options
Stereo HD-SDI recording from Panasonic, Sony, ARRI and other Stereo Rigs
Silicon Imaging Mono and Stereo 2K cameras with SI-2K, SI-3D Raw and CineForm 3D codecs and Live conversion for simultaneous Broadcast / Record
Output File Types
Native Support for MXF, XDCam, DPX, Cineon, DVCPRO HD, TGA, TIFF, BMP YUV, AVI, CineForm Raw, SI-2K & 3D Raw and QuickTime
Optional Support for AVC Intra, DNxHD, JPeg 2000
Software Features
Audio - up to 16 embedded audio (SD/HD), 8 AES/EBU audio channels
Clip Management - record, add, play, trim, remove/delete
Timeline - sequenced editable signal and file output
EDL - automatic creation, fully editable, save as various types
Protocol - Sony serial RS-422 (VTR)
Status - Audio/Video, system, metadata, status and error reporting/display
Hardware / Software Features
Rugged on-camera mount chassis
Remote Control by USB hand control with buttons with 4 line LCD and by WiFi connection
10.4" TFT touch screen High Resolution 1024×768 LCD, optional weather shield
Dual record drives (SSD or HDD), configuration depends on formats to be captured
Optional Synchronous Record / Playback controls for multiple units
Small 7.6"H x 12"W x 4.5"D for easy hand usage or on-camera installation
Light weight 9 Lbs – using external power, 11.5 Lbs with 1Beyond 160Wh intelligent battery
Optional Custom Storm case