DrasticDDR SDK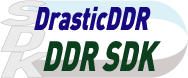 The Drastic DDR SDK is a multi-platform SDK that allows the developer to create a custom function, client branded DDR from Drastic's extensive digital disk recorder technologies. The SDK is available as a direct link, or ActiveX component. The video board, file I/O, control (network, RS-422, VTR) and OS connections are all handled by Drastic DDR under the control of your application. Drastic DDR provides the functionality to allow you to focus on the workflow specific elements.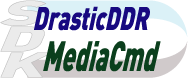 The Drastic MediaCmd SDK is the mechanism by which all the elements of Drastic's DDRs communicate with one another. The control features provided within the SDK include the following:
VTR Emulation - Receiving commands from 9 pin Serial Controllers via Sony, Odetics or VDCP protocol. Receiving commands from Drastic GUIs, Servers and Controllers
Controller - Controlling VVW or Titan Series DDR Servers, Drastic DDR software locally, and Drastic DDR software licensed to support network option remotely. Controlling 9 pin serial VTRs and Servers via Sony, Odetics or VDCP protocol
HTML/Ajax - Building HTML/Ajax status and control pages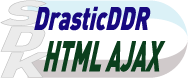 The Drastic DDR HTML/Ajax SDK provides complete access to all the functions for controlling all of Drastic's DDRs. An abstraction of the MediaCmd SDK, commands can be sent from any web browser or web page. The HTML/AJAX version supplies all the same commands as the Drastic DDR MediaCMD SDK used by all Drastic applications. This means that it is possible to provide the exact same functionality from a web browser as is available in user interfaces like MediaNXS, DrasticDDR and SyncControl Pro.