DTReplayLIVE provides a dedicated interface for sports capture and replay applications, and features play while record and non-linear and variable speed replay. Use mark-based replay selection, with flexible cueing and replay to highlight exceptional or disputed plays.
Multiple channels existing on networked devices may be controlled to synchronize start of capture for all channels and provide access to all channel's media for sports replay applications.
Sports Replay Applications
DTReplayLIVE is designed to provide all the tools required for capture with non-linear playback including shuttle, seek, variable speed and mark-based instant replay with slow motion capabilities. The live stream is captured and saved to disk. As the capture is taking place, the user may replay segments of the captured stream for highlight reel or referee review purposes. Replay is non-linear, so the user may access any frame prior to the minimal follow distance, and play in forward or reverse at various play speeds.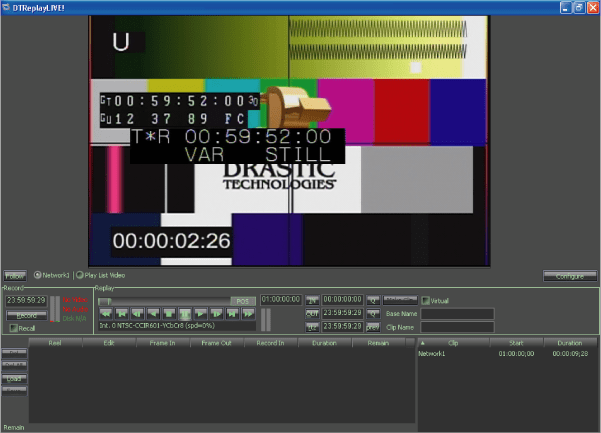 DTReplayLIVE Features
Display
Keep track of the demands placed on the system with real time buffer, CPU, audio and time code monitoring. View the integrity of the signal in real time, with color coded alert states. Where the audio, video or time code is not detected or missing, its display color alerts the user to the alarm state.
Full support of stereo and 3D capture and recording, with a range of display modes for clip output and signal review, comparison and quality control.
Replay
Play, Jog, Shuttle, Variable Controls - The traditional Play, Pause, Stop etc controls are augmented by a number of seek and playback controls familiar to users of professional serial control devices or automation systems.
Optional hardware controllers are available for setting marks (the USB-based index mark controller), and for jog/shuttle/T-Bar support (the DTReplayLIVE T-Bar Controller).
Record
Constant Real Time Record with Loop Option - Recording can be set to constant (remain recording while playback and clip access are available), or loop record which essentially designates an amount of video to keep and overwrites earlier frames once the loop amount has been reached.
Multiple Record and Playback Channels - Control multiple record channels on a network, in a flexible integrated manner. Select all or specific loaded channels and engage recording on the selected channels as required.
Real Time Playback During Record - the file being recorded may be accessed for playback prior to a 'follow' distance. This allows the user to provide replay of exceptional or contested events within seconds.
Marking and Clip Creation
The user may create marks during the record, and by selecting various marks instantly cue up portions of the media being recorded, ready for playback. Marks may be turned into clips, identified as good, neutral or bad or removed.
Clips may be created from a mark, or from In and Out points entered by the user. The clip may either be virtual (in and out points reference the original media), or actual (a new file is created). Clips appear in a clip bin and may be selected for playback or inclusion in a playlist.
MOV Creation
Select a clip or portion thereof and import it as a clip for ease of playback and sharing/collaboration purposes. This creates a new instance of the media in the MOV format on the drive, which may be used for playlist creation, distribution or further processing.
Playback Under Control
VTR Emulation - DTReplayLIVE may be operated under a standard RS-422 slow motion controller. This provides ease of integration into an automated facility, especially where slow motion controllers are already in use for VTR based replay.