Network Based Control
The DDR being controlled will have a Drastic DDR application running to activate the DDR service. Opening a browser, the user inputs the IP address of the DDR to be controlled. This opens the below interface: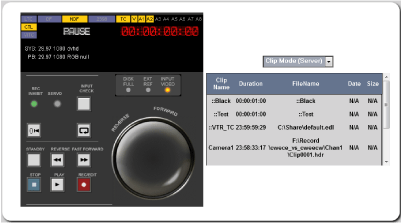 The clip bin or EDL is displayed to allow the user to select, or load media for output. The transport controls present in the interface will play and shuttle through loaded media on the DDR. Multiple browsers may be opened to control the functions on more than one DDR.
Real time time code, status, channel presets and warnings
Full transport control of DDR and attached VTRs
Clip and EDL listing with icons and metadata
Full, secure remote disk access
Multi DDR monitoring
Optional FTP access
Full control of the DDR from HTML/Ajax/Perl/PHP/etc
Fully user customizable