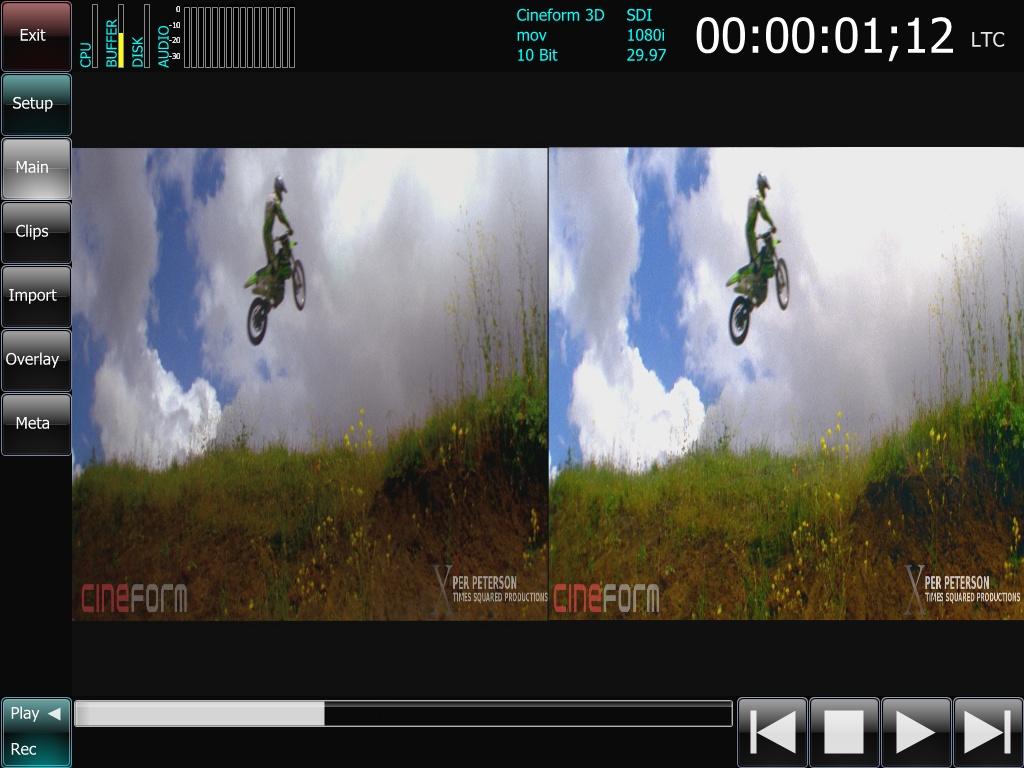 The dTouch interface, playback
{gallery id=dtouch rows=2 cols=9 width=100 height=100 crop=1 labels=captions alignment=center orientation=horizontal buttons=0 links=0 counter=0 overlay=1 captions=boxplus.caption}software/dtouch/screenshots{/gallery}
Recording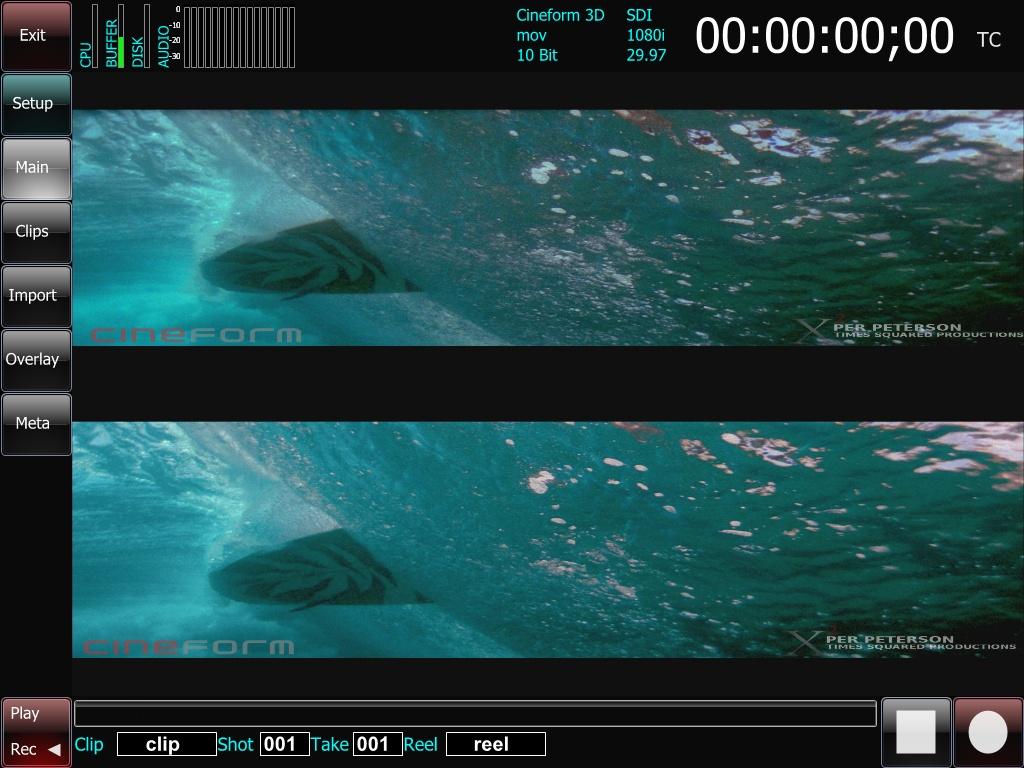 dTouch allows the user to easily record and organize shots on set and in the field. It provides fast access to the most variable shot information: Reel, Shot, Take and Name, by saving them as part of the file name. They are also saved within the metadata of the recorded file, along with over 100 other available metadata tags. Everything from key code, ink code, copyright and keywords to free for user strings are supported and saved to ease searching and editing within dTouch and the rest of your creative workflow.
Metadata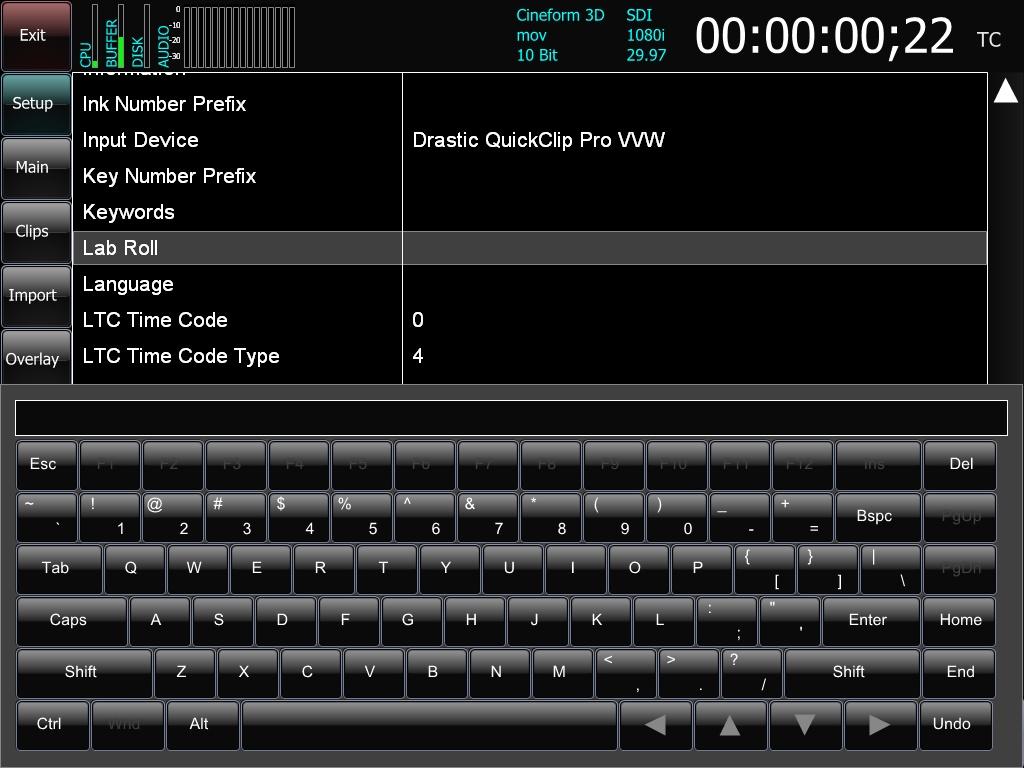 The dTouch interface supports a large number of metadata fields. These include: FileName, NativeLocator, UniversalName, IP, SourceLocator, Channel, ChannelName, ChannelDescription, Title, Subject, Category, Keywords, Ratings, Comments, Owner, Editor, Supplier, Source, Project, Status, Author, RevisionNumber, Produced, Album, Artist, Composer, Copyright, CreationData, Description, Director, Disclaimer, EncodedBy, FullName, Genre, HostComputer, Information, Make, Model, OriginalArtist, OriginalFormat, Performers, Producer, Product, Software, SpecialPlaybackRequirements, Track, Warning, URLLink, EditData1, EditData2, EditData3, EditData4, EditData5, EditData6, EditData7, EditData8, EditData9, VersionString, Manufacturer, Language, Format, InputDevice, DeviceModelNum, DeviceSerialNum, Reel, Shot, Take, SlateInfo, FrameAttribute, Episode, Scene, DailyRoll, CamRoll, SoundRoll, LabRoll, KeyNumberPrefix, InkNumberPrefix, PictureIcon, ProxyFile, TimeCode, UserBits, VITCTimeCode, VITCUserBits, VITCLine3, PosterFrame, AFrame, AspectRatio, OriginalRate, OriginalScale, Conversions, VersionNumber, FileSize, FileDate, FileTime, SequenceNumber, TotalStreams, TotalLength, FilmManufacturerCode, FilmTypeCode, WhitePoint, BlackPoint, BlackGain, BreakPoint, Gamma1000, TagNumber, Flags, TimeCodeType, LTCTimeCodeType, VITCTimeCodeType, ProdDate.
File Formats and Video Standards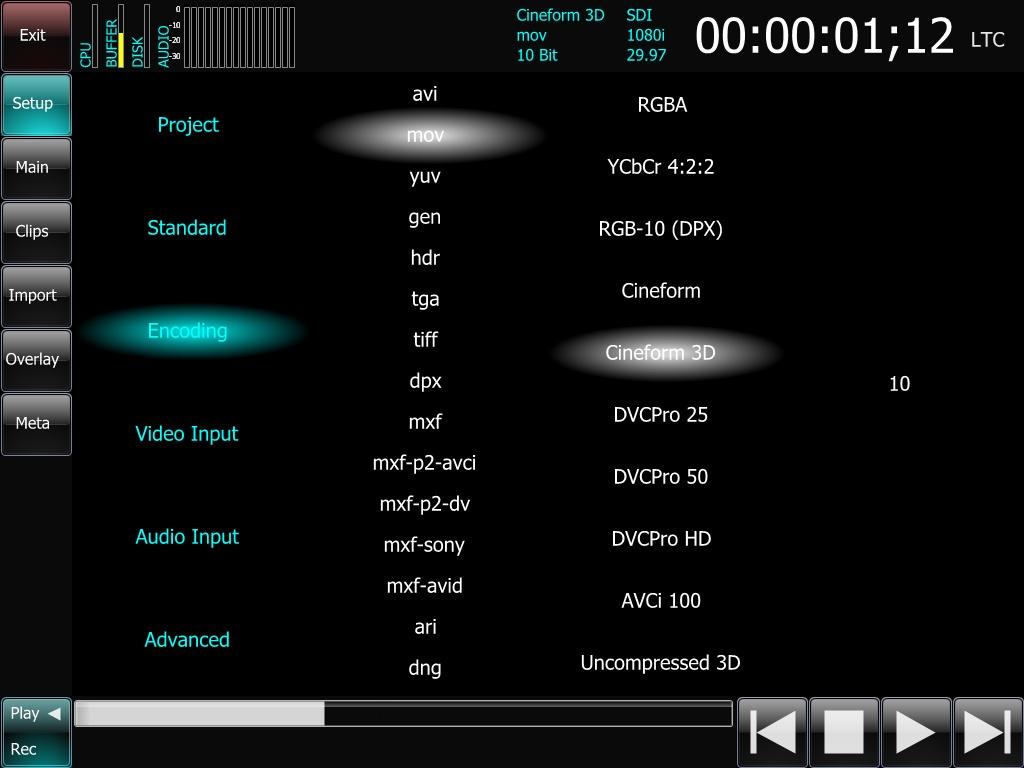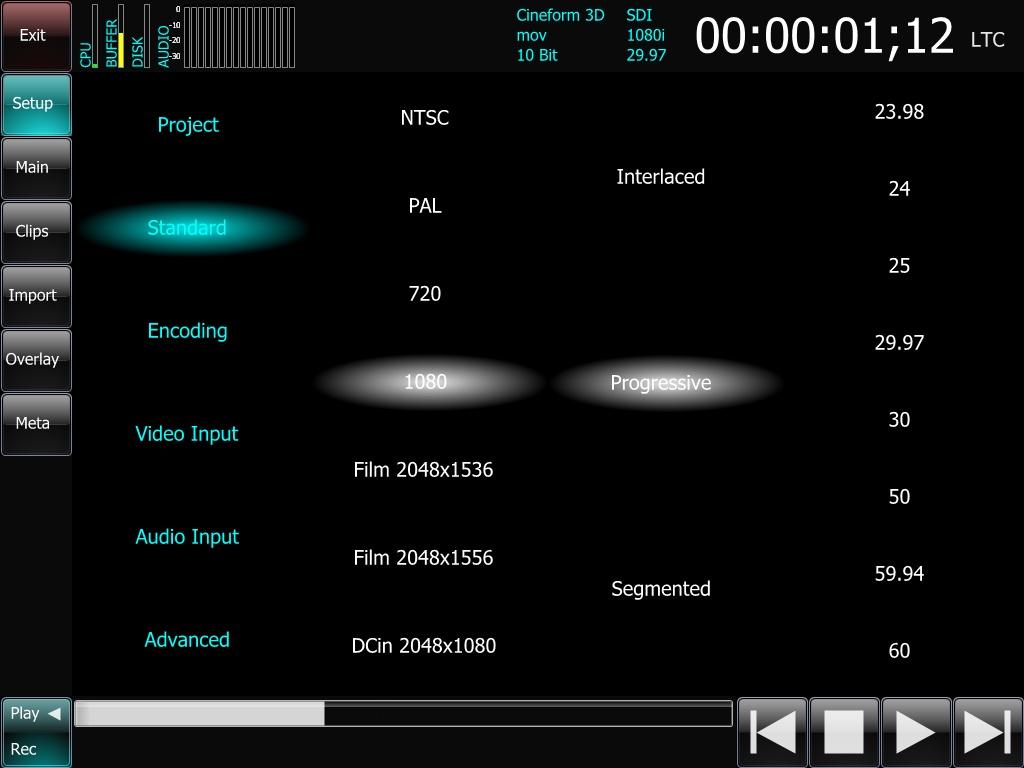 dTouch software supports SD, HD and 2K Digital Cinema at frame rates from 23.98 to 60. A variety of raw modes from Arri, Weisscam and LMP cameras are also supported for raw 12 bit bayer capture up to 2880x2160.
Our extensive file format support provides the flexibility to record directly into the optimum format for your workflow. Everything from full uncompressed YCbCr and RGB to industry standard compressed formats are supported in fully compatible containers, ready for downstream processing.
Supported Formats - Real time record, play, export and import (SAN/Network/Drive speed dependent)
MOV - DVSD, DV25, DV50, DVHD, AVCi100, DNxHD, CineForm*, CineForm3D*, RGBA, RGB-10 (DPX), YCbCr 8 & 10 SD/HD
AVI - DVSD, DV25, DV50, DVHD, CineForm*, CineForm3D*, YCbCr 8 & 10 SD/HD
MXF-Panasonic-P2 - DV25, DV50, DVHD, AVCi100**
MXF-Sony - MPEG IMX
MXF-Avid - DV25, DV50, DVHD, DNxHD, Uncompressed
MXF-OP1a/Omneon - DV25, DV50, DVHD, AVCi100**, Uncompressed
HDR-YUV - DV25, DV50, DVHD, AVCi100**, RGB, Uncompressed YCbCr 8 & 10 SD/HD
DPX/Cineon - RGB 8, RGB 10, YCbCr 4:2:2
DPX-C - CineForm*, CineForm3D*
YUV - 4:2:2 and 4:2:0 YCbCr image sequence
v210 - 4:2:2 10 bit YCbCr image sequence
TGA - RGB, RGBA (RLE Play Only)
TIFF - RGB, RGBA
GEN - 4:2:2 YCbCr (Avid DSHD)
4224 - YCbCr 4:2:2:4
ARI - Arri raw 12 bit bayer
DNG - CinemaDNG 12 bit bayer
WAV - Wave audio 16/20/24/32 bit mono/stereo pairs/extensible
AIFF - Apple audio 16/20/24/32 bit stereo pairs
Supported Formats - Real time playback and import
MOV - ProRes, h264, AVCi, MPEG-2, XDCam
OMF - DV25, JPEG, Meridien, AVBV, CamCutter
MXF-Sony - MPEG IMX, XDCamHD, XDCamEX 4:2:0/4:2:2
MXF-Sony - HDCam SR 4:2:2 and 4:4:4
MXF-EditCAM - DV25, DV50, DVHD, DNxHD
MXF-Snell & Wilcox - MPEG-2, IMX
MXF-Pinnacle - MPEG-2 SD/HD
MXF-Harmonic - MPEG-2
DT3D - XML 3D redirector
R3D - Red camera media
AVC-HD - MPEG-2 camera media
GXF SMPTE 360 - MPEG-2, DV25, DV50, DVHD
HDR-YUV - YCbCr10, YCbCr16, DPX RGB, DNxHD
JS - Jaleo 4:2:2 YCbCr
CINE - Phantom 10/12/14 bit bayer
IHSS - Iridas RGB
ARC - IFX Piranha Audio/Video (YCbCr/RGB 8 only)
RTINDEX - Real time replay of VBR records
LUMA RMY BMY - Uncompressed YCbCr
RED BLU GRN - Uncompressed RGB
Y U V - Multi file component YCbCr files
VPB/QTL - Quantel uncompressed YCbCr images
QNT - Quantel raw uncompressed YCbCr images
Y4M - YCbCr raw stream
fhgDI, fhgDP, fhgAP - Weisscam digimag format
DV/DIF - Raw DV files
DVS - Uncompressed YCbCr and RGB files
MPEG-1 - 4:2:0 up to 15 mbits/sec
MPEG-2 - 4:2:0/4:2:2 SD/HD up to 80 mbits/sec
MPEG-4 - 4:2:0 up to 50 mbits/sec
M2TS - AVC-HD camera files
HDV - MPEG-2 camera files
VOB - Unencrypted
WEBM - Youtube format
FLV/SWF - Flash/Shockwave video
h.264 - 4:2:0 SD/HD up to 80 mbits/sec
VC-1 - WMV of raw wrapper
WMV/ASF - Unecrypted/DRM Free only
MKV - Matroska audio video
OGG - OGG audio video
MP1/MP2/MP3 - MPEG audio
BWF, 8SVX, AU, AVR, GSM, HCOM, IFF, PCM, SF, SMP, SND, VOC, WVE - 44.1/48/96 kHz 16 bit or greater
Supported Formats - Import and export
AVI - Standard codecs
MOV - Standard codecs
MXF - JPEG-2000*** (Grass Valley Infinity)
MXF - Grass Valley iCR
MXF - DCI Unencrypted
MXF - F65 Raw Bayer
R3D - Red camera files
FLM - Adobe FilmStrip
BMP, SGI, PSD, RAW, YUV10, YUV16, VSR, RAS, RAW, JP2, JPG - Series of stills (many others)
DPS - Compressed DPS files (Windows only)
RTV - Uncompressed Video Toaster files (Windows only)
AVS - Video redirection (Windows only)
Advanced Setup
dTouch provides real time display and setup for many important parameters of operation. Controls are included for: Audio (file format, container, source, monitor pair, routing) and video (channel, format, standard, codec, bit depth), genlock, time code (LTC, VITC), up-, down- and cross-conversion, and create a new project. The Match Output to Clip setting allows the user to select any clip in the bin, and the system will reset to the format of the selected clip , which will then become available for real time playback.
Real Time Display
dTouch provides real time video display, including clip output/playback, video throughput (E to E from incoming signal) with audio meters. Also, current time code location, video file format, codec, bit depth and video standard are displayed. Signal analysis and review tools include wave form monitor (YCbCr and RGB), vector scope and histogram. CPU, Buffer and Disk meters display real time system activity to confirm system performance during resource intensive operations.