QuickClipXO for Drastic DDRs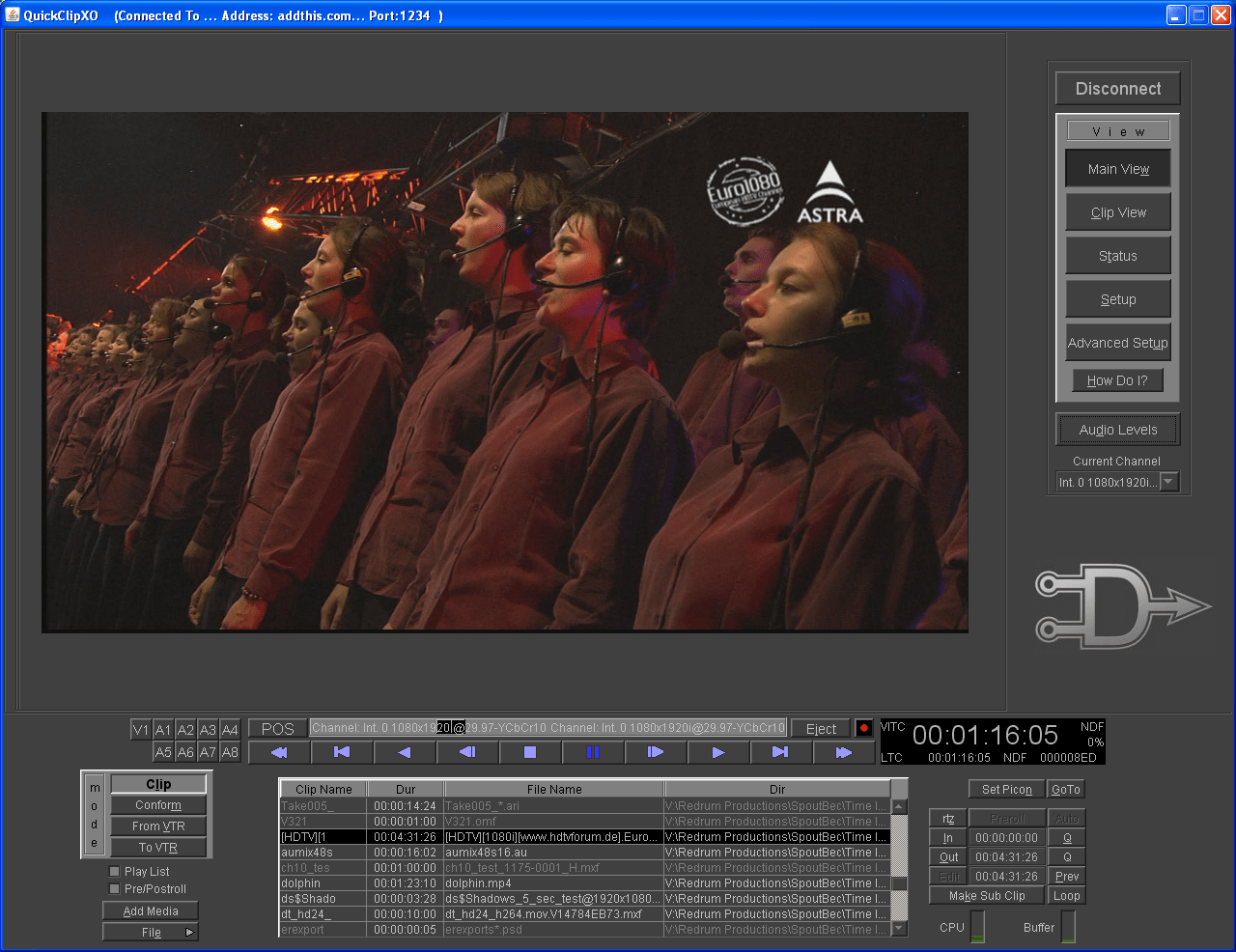 View some screen shots of QuickClipXO
{gallery id=quickclipxo rows=1 cols=9 width=100 height=100 crop=1 labels=captions alignment=center orientation=horizontal buttons=0 links=0 counter=0 overlay=1 captions=boxplus.caption}software/quickclipxo/screenshots{/gallery}
Local or Network Control
Run anywhere network control interface allows the user to control the local DDR, or to control another device with Drastic DDR software running on the network. QuickClipXO may also be run on the Drastic DDR systems being controlled via the network, to provide setup and engage the Drastic DDR software.
Where the device has been fully integrated by Drastic you will not need to install or run this software on another platform, but OEMs and integrators may be interested to know that QuickClipXO may be run on Linux, Windows and OS-X where required.
Advanced Capture, Transport and Output Features
QuickClipXO creates a project file upon opening, which retains settings and media lists for the application. This allows the user to tailor project files to contain specific media pools, or to provide particular media I/O settings.
Clips are displayed with a picon and various metadata depending on the view, and can be selected, played, and included in a playlist or timeline. The timeline is virtual, which allows unlimited instances of a clip or its subclips with no duplication or destruction of media.
The user can set up a time length recording, or simply start the capture when the action begins. Default clip names are provided but new clip names can be entered by the user. Single link, dual link, stereo and 3D capture modes are available given capable hardware (may be license dependent).
Advanced transport features include the Position Controller, which can be switched between four settings:
Play (pointer indicates position during playback and can be 'grabbed' to provide quick position cueing),
Jog (pointer can be 'grabbed' to jog over a few frames forward or reverse to cue up a fine position),
Shuttle (pointer can be 'grabbed' to shuttle through frames forward or reverse at a speed relative to the position of the pointer),

Variable (pointer can be 'grabbed' and released at any point within the control and playback will begin in forward or reverse at a speed relative to the position of the pointer)
The user is given instant access to any frame within a selected clip via a quick "Go to" control - just type in a time code location and press Enter.
Serial Control In and Out
Batch capture from an external VTR using an EDL or LOG list with EDL cut editing. Lay media back to an external VTR by quickly assembling a clip list and starting the one pass output. QuickClipXO may also be used to operate under control as a professional VTR depending on the license level or device capabilities. This means a controller device or automation system can be used to operate capture and playback on these systems for ease of integration into any facility.
System
Useful system tools include the real time Buffer and CPU monitoring to allow the user to see how intensively system resources are being used. The Audio and Video inputs are monitored, with alarms where inputs are not seen or recognized as valid. Real time setup and configuration is provided within the interface for most basic settings like video standard, file format and codec, etc.
Metadata
Metadata display and setup is provided. Where metadata exists within a file, the user may display all the elements for review within the interface. Specific metadata elements may be set by the user and will show up in files created within QuickClipXO.