Overview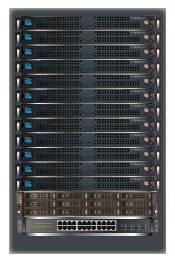 The Krayken is designed as a multiple channel solution that leverages networking features to provide a robust, collaborative replay environment or content creation suite.
For production, you can capture or export to formats that you can share directly with Final Cut Pro, Adobe Premiere and other content creation tools. For replay applications, record multiple Krayken heads in sync, and during record, select various channels for replay, including slow motion. 
Control the Krayken via industry standard Sony RS-422 control, Odetics clip control and VDCP server control.  Dedicated event marking and T-Bar controllers provide proven control surfaces for replay applications. The Krayken features a network access layer, giving the user direct control over the media files for review and processing as well as full remote control of the DDR.  The Krayken also provides HTML/Ajax web browser control and remote user interfaces including Drastic's QuickClipXO and VTRIF. The Krayken heads are available in a 3D configuration, using CineForm's robust 3D codec and dual camera capture or optional SI-3D integration.
Physical
Each Krayken "head" is housed in a 1RU short rack mountable chassis and provided with mounting rails. Internal storage is limited to a couple hours of video, so many applications use network based storage for capture and playback. The rear of the DDR provides for Dual Gigabit Ethernet connections, VGA, keyboard, mouse, USB, Device/slave RS-422 serial connection.
One breakout box is supplied for each Krayken head - it is a 1RU rackmountable device with solid, stable connections which may occupy the front or rear of a rack.  The breakout boxes provide a RS-422 serial connection, main p

Up to 12 Krayken DDRs may be connected to an ethernet switch, so they may all capture to and play back from the same network attached storage. Local management for each Krayken head is enabled through keyboard/monitor. Remote management is featured for the switch and NAS via a web interface. Optional SyncControl provides for simultaneous control over multiple heads for start/stop record and playback.
Control and Time Code
RS-422 Sony protocol, slave or master mode
Odetics 422 clip extensions, slave mode
VDCP/Louth server protocol, slave mode
HTML/Ajax real time web browser control
JAVA local or network control
Comprehensive local Drastic DDR GUI control
Time code and metadata
RP-188 VITC/LTC
LTC/SMPTE (uses 1 audio channel)
RP-215 Audio/Video TC, reel, ink code and key code
VITC/D-VITC