Typhon Dual Link DDR
Digital Media I/O Powerhouse
---
The Typhon represents the fullest expression of Drastic's range of DDR capabilities and features a rugged 4RU chassis engineered to sustain the high bandwidth requirements of 2 separate channels during capture and playback operations.
The Typhon is designed for high end post production applications, including editing, ingest and output, conversion, processing and review, SD/HD dailies and digital intermediate work flows.
The Typhon captures directly to industry standard file types as required, whether uncompressed or compressed, single or dual link, in SD, HD or 2K. Where required the Typhon will transcode files to provide multiple delivery formats, and can also set up proxy file generation either for captured files, or as selected for existing files. Full serial control or network control offers ease of integration into an automated facility and for remote controlled and group operation.
Physical
The DDR chassis - This unit is housed in a 4RU short rack mountable chassis and provided with a mounting rail kit. The unit may be mounted in a standard rack, or placed on a flat surface, or stood on its end.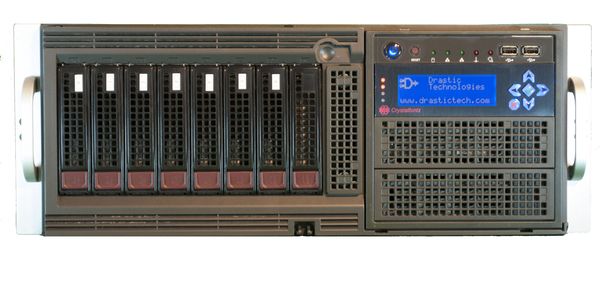 The Typhon ships with Drastic's front panel controller which offers basic transport commands including Play start/stop, clip select, and channel state display via LEDs and LCD screen.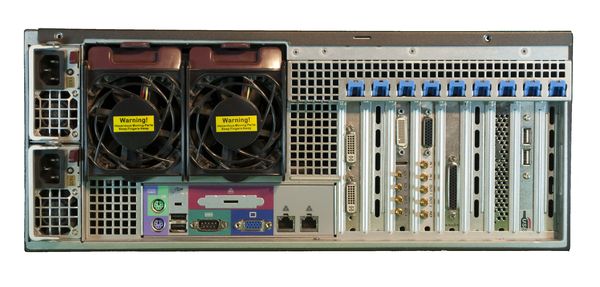 Ports in the rear of the chassis - 2x Gigabit Ethernet connections, 2 Port 4G Fiber SAN interface, VGA/DVI connector, keyboard, mouse, USB, Device/slave RS-422 serial connection

The Breakout box - 1RU shallow breakout box intended to be mounted in the rear of a rack to provide solid, stable connections where they are usually desired, in the rear of the rack. 1 breakout box is provided for each video channel in the DDR.
Ports on the breakout box - Master RS-422 serial connection, Stereo RCA audio monitor output, audio and video connectors
Control and Time Code
Control methods
RS-422 Sony protocol, slave or master mode
Odetics 422 clip extensions, slave mode
VDCP/Louth server protocol, slave mode
HTML/Ajax real time web browser control
JAVA network control (QuickClipXO, VTRIF)
Drastic's DTReplay instant replay, VTRIF VTR-style front panel emulation and dTouch touch screen interfaces
Timecode and metadata
RP-188 VITC/LTC
LTC/SMPTE (uses 1 audio channel)
RP-215 Audio/Video TC, reel, ink code and key code
VITC/D-VITC