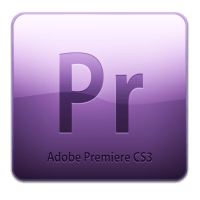 Adobe's Premiere Pro software and Creative Suite have become one of the most incredibly efficient and powerful editing systems available today. Drastic's MediaReactor Workstation integration allows you to extend and expand the functionality of this industry standard product. Drastic DDR servers provide extensive content capture options, including real time editing while recording without interrupting or breaking up the record file. Most components, including After Effects and Encoder are also supported.
MediaReactor Workstation for Premiere Pro
MediaReactor Workstation (MRWS) integrates directly into Premiere using Premiere's file import and export plug-in system. The reader plug-in allows Premiere to directly access a huge variety of file formats without translation. CINE, DPX, FHG, GEN, GFX, HDR, MPEG-2, MTS, MXF, OMF, V210, VPB, YUV and many other industry standard formats can be added as if they were native file formats. Even widely different variants of MXF are all supported: Avid, DCI, EditCAM, Harmonic, OP1a/Omneon, Panasonic-P2, Pinnacle, Quantel, Snell&Wilcox, and Sony MXF files can share the same bin and timeline seamlessly. Time code, multi-channel audio and metadata are all directly supported along with high quality video decoded in its native colour format at up to 16 bits per component. Within each of the file formats, all industry standard codecs are supported including AVCi, DNxHD, DVHD/50/25, HDCam-SR, JPEG, JPEG-2000, MPEG-1, MPEG-2, MPEG-4, h.264/AVC, XDCam, Bayer pattern, ProRes, YCbCr 8/10/16, and RGB 8/10/16. Native QuickTime codecs within the system are also supported.
MediaReactor Workstation also works on the output side of Premiere. MRWS provides direct export to a group of file formats via Premiere's file export dialog. MRWS can output AVI, Cineon, DPX, GEN, HDR, JP2, JS, M2T, MXF (OP1a, Omneon, Avid, DCP, P2, Sony XDCam), OMF, V210, VPB and YUV file formats in a variety of codecs.
Like the Premiere editor, After Effects and Adobe Encoder also support MRWS for input of supported files, and export via the Premiere export plug in.
Drastic DDR for Premiere Pro
The Titan series Drastic DDRs use MediaReactor Workstation to integrate with Premiere. The DDR allows one or more channels of HD-SDI to be recorded to disk in AVCi, DVHD, DNxHD, Uncompressed, or other supported compression type. These files can be used directly for editing in Premiere, ether by recording in a natively suported format (MOV, MXF, AVI, etc), or by reading them with the MRWS plug-in. The most interesting feature of this combination is live record editing. While the file is recording and still open in Drastic DDR, Premiere can use MRWS to open and start editing and reading the live recording file. All the material recorded up to about a second before the current time is available for editing, review and export. As the live event goes on, more material becomes available automatically with no intervention necessary by the operator. Multi-channel recordings, like the ones controlled by SyncControl Pro, means multi-cam editing cane be done during the event. Once the recorded event finishes, the last few edits can be made, and the production ready without delay.
MediaReactor Server for Premiere Pro and Creative Suite
MediaReactor Server can convert most standard production file formats to Premiere-supported file formats, in the same or a different codec, allowing access to the content from Premiere and other Creative Suite applications. MediaReactor Server can also provide a bridge for mixed environments. Using the included DTSentinel interface, files coming into the facilities can be automatically converted to compatible MOV files and proxy files, and then the original material can be automatically moved to any accessible storage point. MediaReactor Server also includes an MOV reference file maker. This tool, which can also be automated with DTSentinel, can make a tiny reference movie for most MediaReactor supported file types. This process is extremely fast, and allows Premiere and other MRWS editors to access the original file, while unsupported software can access the same audio and video data via the reference file.