This area is only for Titan Series Drastic DDR Version 4 users. All VVW users should download the released 3.4 version of the software, unless their VVW unit has been certified as Drastic DDR 4 compatible.

dTouch is a dedicated capture and playback interface for touch screen systems. It is featured in the Drastic/1Beyond Mini3D portable recording device. dTouch provides fast, intuitive record and playback of a wide variety of file formats from single link, dual link, HDMI, 3D and 3G video sources.
The dTouch onscreen viewer lets you scroll through your clips, view metadata, import files, and offers a range of signal analysis tools, all within the same application. Touch and swipe functionality provides access to all the controls and displays required for on set acquisition and review.

Here are some images from a photo shoot of the Mini3D DDR at Drastic taken during a break in testing.

DTReplayLIVE provides a dedicated interface for sports capture and replay applications, and features play while record and non-linear and variable speed replay. Use mark-based replay selection, with flexible cueing and replay to highlight exceptional or disputed plays.
Multiple channels existing on networked devices may be controlled to synchronize start of capture for all channels and provide access to all channel's media for sports replay applications.

MediaNXS, QuickClipXO, VTRIF, dTouch, and DTReplayLIVE each have their own set of configuration controls and displays. The user will be able to adjust and confirm settings without closing these applications. There may be slight differences between the exact controls offered within each application though they will each provide a basic setup for categories like video and audio type.
Also the applications DDRConfig (and in specific installs the Drastic Setup Wizard) may be used to view and adjust many of the configuration settings.
VTRIF CineDDR provides professional VTR-like capture and playback features including control over external devices, and operation under serial control. The streamlined interface is designed to provide the "feel" of a traditional VTR with graphic elements corresponding to recognized VTR controls and displays. This application may be used with the high quality CineForm codec to provide brilliant, clean output with minimized file sizes for ease of storage.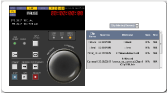 Drastic's Real Time HTML Interface provides a way to control a DDR from any networked computer. Once the DDR and the computer are on the same network, the user enters the IP Address of the DDR into their browser to reveal a page with links to either connect with a basic interface or to download QuickClipXO to control the DDR.

QuickClipXO provides access to the powerful Drastic capture and playback engine, with full serial and network control. Can be used locally or to control another DDR on the network. Especially well suited to perform pull-ins and laybacks to and from an external VTR.
QuickClipXO provides the most commonly used features of digital disk capture, serial control, sequenced playback, clip list and metadata maintenance and output.