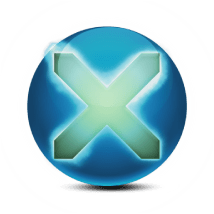 Net-X-Code is a network audio and video stream capture application with real time translation to multiple standard file formats like MPEG-1, MPEG-2, MPEG-2, MOV/h264 and uncompressed MOV or AVI. It also includes NetStreamer for setting up RTP streams, MediaReactor components for media file transcoding and DrasticPreview VGA/DVI media player.
Overview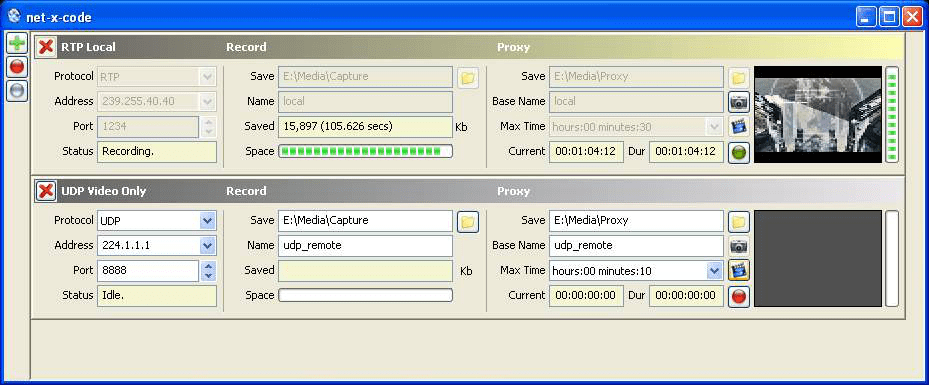 Net-X-Code is an application that lets you capture a video stream and its associated audio over a network, and provides real time translation to multiple standard (proxy type) file formats. The main capture protocols are:
UDP (User Datagram Protocol)
RTP (Real Time Transport Protocol)
RTSP (Real Time Streaming Protocol)

The captured data is stored in the original format on the disk (e.g. transport stream, program stream, elementary stream) without any translation. It can be in any format, since the application does not process the initial capture. To convert the file to other file types, the original file must be a supported type.
Supported Conversion Source Types
Container/Wrapper:
Transport Stream
Program Stream
Elementary Stream
AVI
MOV
MP4 (most, but not all)
WMV (without DRM)
Video Codecs:
MPEG-1
MPEG-2 (4:2:0 and 4:2:2, SD/HD)
MPEG-4 (4:2:0 and 4:2:2, SD/HD)
AVC h.264 (4:2:0 and 4:2:2, 8 and 10 bit) *
Windows Media (without DRM)
Most Windows AVI codecs (when running on Windows)
Most QuickTime codecs (when running on Windows or OS-X)
* 10 bit support only available in version 4 beta
Audio Codecs:
MPEG Layer 1/2
MPEG Layer 3
MPEG PCM
AES3
Other codecs optionally available for decode or passthrough
Supported Proxy File Types
From any supported initial capture type, one or more of the following output types can be encoded:
MPEG-1 (with downconversion)
MPEG-2 SD
MPEG-2 HD
MPEG-4 Atom
MOV h.264/AVC
AVI YCbCr uncompressed
MOV YCbCr uncompressed
Features
Conversions may be broken up into segments on disk for easier searching and control. All available time code and other metadata is converted from the original stream to all the converted output streams. All output streams are written simultaneously. Multiple capture channels can be run on the same computer, so long as network, disk and CPU bandwidth are available.
Included Software
Net-X-Code - Multi channel capture and translation software

NetStreamer - a utility for quickly setting up RTP streams for test or general use

MediaReactor Lite - for post conversion of streams, and conversion to other types (e.g. MXF, OMF, other MOV/AVI codecs) - Same license, requires secondary download of MediaReactor

DrasticPreview - a skinnable media player which includes real time data, metadata support - Same license, requires secondary download of DrasticPreview
Drastic Update Mailing List
Please sign up for email updates. We do not sell email lists and will only contact you with Drastic related information.