The Drastic YCbCr codec for QuickTime, Video For Windows and Direct Show allowed third party applications to use files (AVI and MOV primarily) generated by Drastic's Titan Series DDRs, MediaNXS batch I/O software and MediaReactor file transcoding software. This codec is a legacy software from Drastic. It has been incorporated into the MediaReactor Workstation software for Windows and OS-X.<
NOTE: This area contains legacy material from previous Drastic Technologies websites. It is provided for reference only, and contains information, products and links that may no longer exist and which are no longer supported by Drastic. For current Drastic Technologies products, please see our main site here:
3.0 Release with alpha channel support!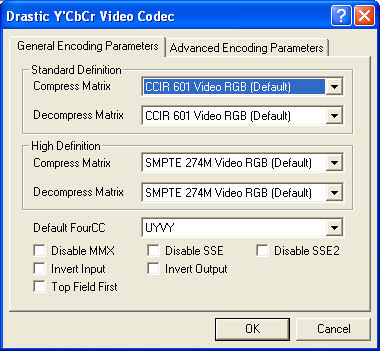 This Y'CbCr codec includes support for a wide variety of four'cc compression codes including:
I420, IYUV, YV12 - 4:2:0 8 Bit Planar
UYVY, YUY2, 2vuy, 2Vuy, yuv2 - 8 Bit Interleaved 4:2:2
YVYU, YUYV, YUNV, UYNV, cyuv - 8 Bit Interleaved 4:2:2
V422, P422 - 4:2:2 8 Bit Planar
v210, 012v - 4:2:2 10 Bit Interleaved
auv2 - 4:2:2:4 8 Bit Interleaved
a12v - 4:2:2:4 10 Bit Interleaved
The codecs support cross conversion between YCbCr colors paces as well as conversion to and from RGB/BGR24, RGBA/BGRA32. For translating between RGB(A) and YCbCr (also called YUV by some manufacturers), the Drastic codec provides a wide variety of transform matrices included CCIR 601, RP 709, SMPTE 240M and SMPTE 274M. Each may use full scale (computer) translation or the more traditional video scale (sRGB/SMPTE) for translation. Separate matrices are available for encoding and decoding as well as HD and SD material for maximum flexibility.
CCIR 601-2 Standard Video Range (Y 64..940)
CCIR 601-2 Extended Range (Y 0..1023)
SMPTE 240M Standard Video Range
SMPTE 240M Extended Range (Y 0..1023)
SMPTE 274M Standard Video Range
SMPTE 274M Extended Range (Y 0..1023)
NOTE:

For SMPTE 293, use CCIR 601-2
For SMPTE RP-177, use SMPTE 274M
For ITU-R BT 709-2, use SMPTE 274M
For 709-1, use SMPTE 240M
For SMPTE 296M, use SMPTE 274M
For Vesa, use SMPTE 274M
Please note: Individuals and businesses are free to use our codec if downloaded from this page. If you wish to include our codec on your web site, please link to this page, and not directly to the codec. If you wish to include our codec in your own software distribution, please This email address is being protected from spambots. You need JavaScript enabled to view it. for licensing terms.
---
Download
DTYCrCb Codecs Installer Version 3.0.0
---
Products that use and include our codec include: