Articles
VTRIF CineDDR provides professional VTR-like capture and playback features including control over external devices, and operation under serial control. The streamlined interface is designed to provide the "feel" of a traditional VTR with graphic elements corresponding to recognized VTR controls and displays. This application may be used with the high quality CineForm codec to provide brilliant, clean output with minimized file sizes for ease of storage.
Features
VTRIF is designed to emulate the traditional look and functionality of a high end production VTR. This provides a comfort zone for the experienced operator, making it easier to perform common tasks and minimizing the learning curve for new users.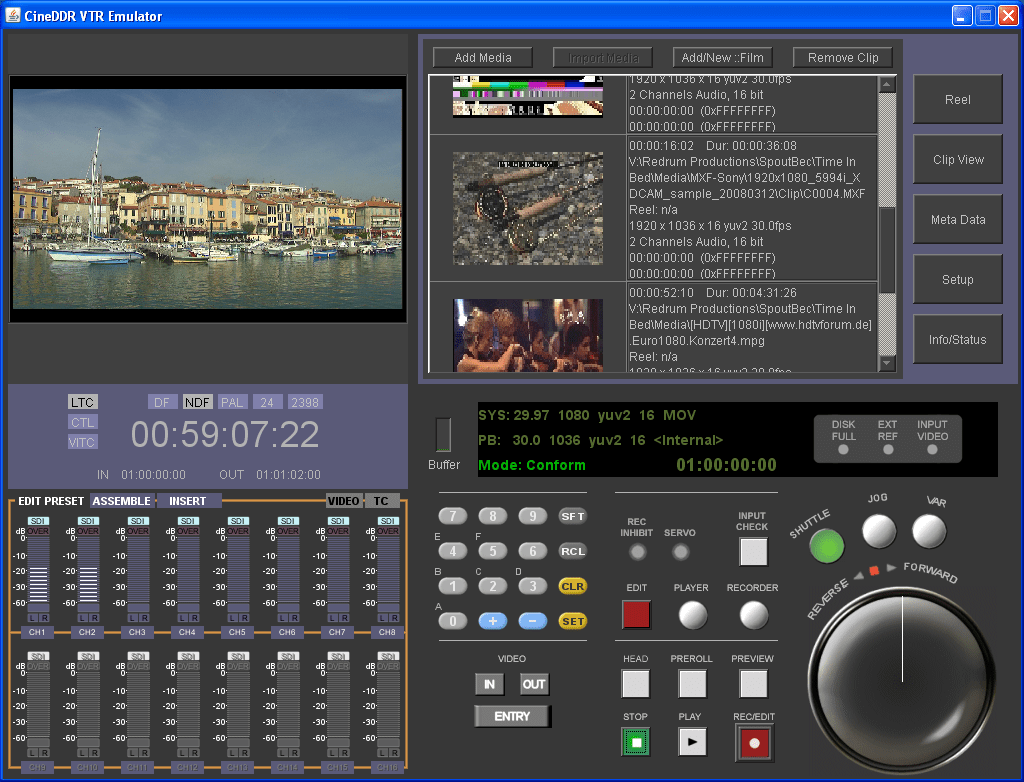 View some screen shots of VTRIF
Capture, Playback and Control
VTRIF provides a tailored solution for video capture and playback based on a set of controls that will be familiar to the experienced VTR operator. Control an external VTR for pull-ins and laybacks. Hook the application up to your automation or controller device and use serial control to direct your capture and playback operations. Assemble and Insert selectivity provides an editable timeline. Mark in and out points and pull a clip into the clip bin for playback with frame accuracy.
Advanced transport features include the Position Controller, in this case displayed as a control "knob", which can be switched between jog (wheel moves playback by a few frames), shuttle (wheel movement provides fast scrub playback) and variable (stays at speed set by the user) settings.
Media management includes clip add/import, New ::Film, Reel. Use either Clip mode (capture discrete clips within a clip bin) or Conform mode (capture clips into a timeline with associated time code locations).
System Setup and Monitoring
A number of displays are present to inform the user about the state of the DDR during various operations, and as warnings or indicators for the status or present setting of certain controls
Status for the storage drives (Disk Full display lights up when storage is nearing capacity)
Status for the reference input (Ext Ref lights up when the reference input is not seen or invalid)
Status for the video input (Input Video lights up when the video input is not seen or invalid)
Buffer level display to show system usage during resource intensive operations
Clips are shown with an associated picon, clip name and duration
Metadata is displayed, and specific elements may be reset, within a clip list, timeline or globally
A wide range of setup and configuration tools are included within the application for convenient access, or to accommodate varying requirements.
Audio – audio file format and container, number of audio channels, audio bit depth, audio source, audio routing
Video – channel, format, standard, codec, bit depth, quality slider/number field, check input, limit SDI Out, Match Output to Clip, Match Input, Dither 8 bit, 2K display offset, genlock source/display,
Time Code – use VBlank, Save VBlank, LTC enable/select audio channel
Superimpose Time Code – VTR/Film Style, VGA Only, X/Y Location of Time Code
Conversion – Up-, Down-, and Cross-conversion
Record Directory – change the record folder
VTR Control – Pre/Post Roll